Dancing With Giants: A Lawyer and Banker Share Their Passion for Infrastructure Finance (Paperback)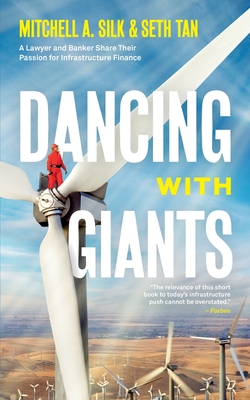 List Price: $21.99
Our Price: $18.69
(Save: $3.30 15%)
Warehouse, In Stock | Usually Ships in 1-5 Days | New
Description
---
What do a U.S. lawyer and a Singaporean banker have in common?
When it comes to infrastructure finance, Mitchell A. Silk and Seth Tan have just about seen it all. They have witnessed the inner workings of international development projects-ranging from bilateral economic agreements between countries to multibillion-dollar infrastructure financings-from both legal and financial angles. In alternating chapters, they share their experiences over the last several decades working on infrastructure projects on almost every continent and at the highest levels of government and corporate organizations. Infrastructure finance took off in the 1980s. Today, it is a major focus as the world grapples with the challenges of private capital mobilization to meet the giant global infrastructure funding gap. Mitchell A. Silk and Seth Tan were there for its growth into a giant industry.
Praise for Dancing With Giants
"An extraordinary collection of real world experiences from the front lines of global infrastructure finance. Mitch Silk and Seth Tan, two leading practitioners of infrastructure finance over the past 30 years, illuminate the essential role of private investment
in meeting the world's energy needs." - Andr's Gluski, President and CEO, The AES Corporation
"Infrastructure in the next 30 years may be very different from today or not yet exist as needs will change and technology advancement can offer new solutions. But the past can offer good principles to follow for future development. It is great to read about two practitioners, Mitch and Seth, who have lived and breathed infrastructure in the last 30 years."
- Marie Lam-Frendo, CEO, Global Infrastructure Hub (a G20 initiative)
About the Authors
Mitchell A. Silk
Mitchell is the immediate past Assistant Secretary for International Markets at the U.S. Department of the Treasury. In that position, Mitch designed and implemented an inter-agency growth initiative in international infrastructure finance, and the $94 billion CARES Act programs that benefitted over 700,000 American aviation industry workers. Prior to joining U.S. Treasury, Mitch was a senior partner in the global law practice of Allen & Overy in Hong Kong and New York, where he specialized in energy and infrastructure matters, asset management, and banking and finance. Mitch is fluent in Mandarin and Cantonese Chinese, and his favorite language of Yiddish. He lives in Brooklyn, New York. He and his wife, Yocheved Rivka, are the proud parents of eight children and four grandchildren.
Seth Tan
Seth was most recently the head of Infrastructure Asia, a regional infrastructure facilitation office under the Singapore government. Initiatives he led include bringing top private sector companies to co-create bankable Asian infrastructure. Seth has worked in the infrastructure sector for 25 years, spanning a broad spectrum of infrastructure and a large geographical area (even economies further away from Asia like Zambia, Nigeria, and Ghana). Thanks to esteemed employers like BNP Paribas, Babcock and Brown, Standard Bank, and DBS Bank, Seth worked outside Singapore for 15 years and traveled to almost 80 cities across the globe. His favorite cities are Beijing (where he lived for nine years) and Singapore (home). He now lives in Singapore with his wife, Li Xiang, and their children, Zoey and Evan.