Blueprint for a Nonfiction Book (Paperback)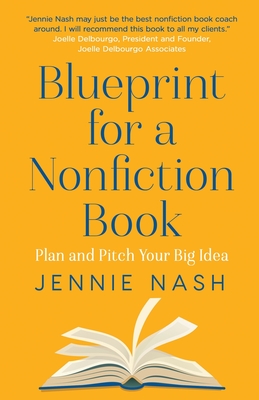 List Price: $12.99
Our Price: $11.04
(Save: $1.95 15%)
Warehouse, In Stock | Usually Ships in 1-5 Days | New
Description
---
Top book coach Jennie Nash teaches you how to define a winning idea, pin it to the page, and pitch it to the people who can bring your book to life.
"Jennie Nash may just be the best nonfiction book coach around. She offers up a proven method that helps writers to find their voice, identify their readers, hone their message, and organize their thoughts. Jennie is something of a magician. Her clients consistently produce excellent proposals sure to garner attention from literary agents who can help them to land that coveted publishing deal. I will recommend this book to all my clients." -Joelle Delbourgo, President and Founder, Joelle Delbourgo Associates Literary Agency
Would you start a business without understanding your customer? Or launch a new product without studying the competition? Of course not, but this is exactly what many experts, educators, and entrepreneurs do when they decide to write a book: they leap over the fundamentals and go straight to putting words on the page. The result is a half-baked book that doesn't capture their brilliance and will never get the attention from agents, publishers, and readers that it deserves.
Blueprint for a Nonfiction Book is a step-by-step process for defining your big idea, developing a compelling book proposal, and making the pitch to the industry professionals who can bring it to life. It's where vague "I want to write a book someday" sentiments turn into "I love this book and I am writing it" proclamations. All you need to take advantage of the Blueprint is a book idea you want to share with the world, an audience you hope to reach, and the willingness to figure out the best way to pin that idea to the page.
Jennie Nash is the creator of the book coach certification program at Author Accelerator and has taught hundreds of book coaches and thousands of writers how to use the Blueprint for a Book system to help them produce their best work in the most efficient way. She is the author of Blueprint for a Book: Build Your Novel from the Inside Out; Read Books All Day and Get Paid for It: The Business of Book Coaching; and eight other books.
"This process saved me YEARS of bumbling about in the dark " -Michelle Dempsey-Multack, podcaster and author of Moms Moving On: Real-Life Advice on Conquering Divorce, Co-Parenting Through Conflict, and Becoming Your Best Self
"Jennie's Blueprint system makes writing a lot less painful and a lot more productive." -Michael Melcher, partner and executive coach at Next Step Partners and author of Your Invisible Network: How to Create, Maintain, and Leverage the Relationships That Will Transform Your Career
"Worth its weight in gold." -Monica Holloway, instructor at the Writers' Program at UCLA Extension and author of Remarrying Michael: My Second Marriage to my First Husband
"The Blueprint showed me that it wasn't enough just to teach my readers a new mindset and a new skill: I also needed to tell a compelling story." -Dan Blank, founder of wegrowmedia.com and author of Be the Gateway: A Practical Guide to Sharing Your Creative Work and Engaging an Audience
"Jennie's value doesn't just come from knowing the nuts and bolts of writing, it's from coaching ALL sides of what a book entails from her head and her heart. She brings out the best of both from the writer." -Jenn Lim, co-founder and CEO of Delivering Happiness and author of the Wall Street Journal bestseller, Beyond Happiness: How Authentic Leaders Prioritize Purpose and People for Growth and Impact