Evah & the Unscrupulous Thwargg (Enhanced) (Hardcover)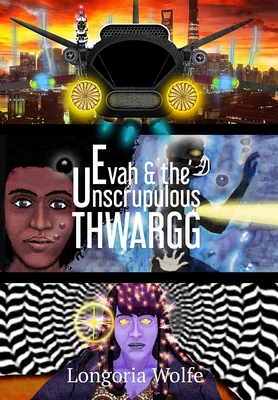 $38.99

Warehouse, In Stock | Usually Ships in 1-5 Days | New
Description
---
This winner of a Literary Titan Award and a five-star rating from Readers' Favorite is a blend of dystopian sci-fi, fantasy, adventure, and thriller.
"The world-building is impeccable and the reader finds themselves transported to different and exciting worlds. Longoria Wolfe is a great storyteller, an entertainer who has crafted a story with fictional characters that feel real and an imagined universe that is irresistible to explore." - Jose Cornelio, Readers' Favorite
Evah & the Unscrupulous Thwargg tells the story of Evah Ahtochi, a bullied girl troubled by haunting visions and strange phenomena, who discovers her connection to an ancient supernatural tribe vanquished at the hands of the ruling technological race. The tribe may reemerge through her but she will have to navigate a system of control and murder. She is endangered by more than mysterious phenomena that she must go head to head with to survive. There is a dark history she must find resolution with if she intends to claim her destiny.
Even the whimsical characters in this story have strange secrets, axes to grind, and big objectives to conquer. As the story moves from world to world and past to present the solar system of Spirea's moral ambiguity grows thicker, mythology and supernatural power swell to heights beyond scientific comprehension, suggesting Evah's ancient tribe may have had the power to do things technology could only dream of mimicking and there may be no way to measure what Evah could achieve.