First-Time Landlord House Rental Prep Book: The Landlord's Essential Guide to Getting It Right First Time Become an Autopilot Landlord (Large Print / Paperback)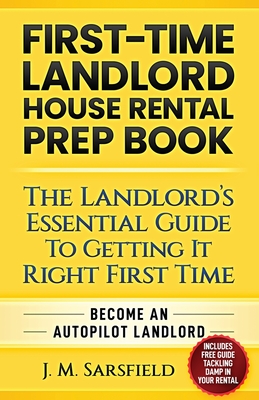 List Price: $15.99
Our Price: $13.59
(Save: $2.40 15%)
Description
---
Have doubts about what you need to AND should do, to prepare your first U.K. rental property investment?
Discover the new legal requirements for landlords - you will need to know - to prevent you from being fined up to 30,000.
Understand why compiling a Household Management Document will provide you with a valuable management tool, whereas, just having a tenancy agreement, falls massively short.
In this book you will discover:
◆ Legal must-dos to make sure your rental property is compliant or face big fines
◆ Critical areas to get right before you check in your first tenant to cut your ongoing rental property maintenance costs
◆ Why adding unnecessary extras can actually lower your ROI
◆ Boundary confrontations - avoid by planning ahead
◆ Plumbing and Heating issues cost landlords so much more than they need to
◆ 29 criteria the local authority will use to judge you as a landlord and decide if your rental property is fit for human habitation
Even if you think you have it all nailed....I'll bet you haven't
Read this property rental book focusing on maintenance, and in three hours, you will be able to draw up a schedule to prepare and maintain your rental property....you can then relax and feel in control and start landlording on autopilot
Discover all this valuable guidance for less than the cost of a large pizza.... AND get a FREE Bonus Book on Tackling Damp In Your Rental
Get it Now