Granny Bouncer's Rescue (Tales from Fern Hollow) (Hardcover)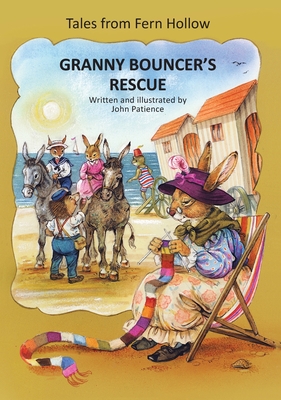 $15.99

Warehouse, In Stock | Usually Ships in 1-5 Days | New
Description
---
Fern Hollow is a wonderful place to live. Ask Professor Sigmund Swamp or old Brock Gruffy to tell you about their lovely little village and they will talk all day and yet hardly have begun. They will tell you that Fern Hollow nestles at the foot of the trees of Windy Wood and that through the village runs the sparkling ribbon of the River Ferny.
The animals of Fern Hollow are all good friends and neighbours, and if you are a stranger they will make you feel at home in next to no time.
In this title:
The day for the annual seaside trip has arrived and the Fern Hollow animals are all filled with excitement. Granny Bouncer enjoys a trip to the seaside as much as anyone but she is quietly concentrating on her knitting and, as it turns out, a good thing too
Fern Hollow railway station was packed with excited animals; buying tickets, showing off new buckets and spades and exclaiming to each other what a perfectly beautiful day it was. As was usual for this occasion, a special train had been booked and as it drew into the station puffing out steam and smoke, an enormous cheer went up from the children.
Eventually, everyone had got themselves settled in the train and was impatient to be off, but there was a problem. Granny Bouncer had not yet arrived. "Perhaps she isn't well," some animals suggested. "Maybe she has forgotten about the trip," others said. At last, just as the train was about to leave without her, Granny came running down the platform. "I forgot my knitting," she panted, waving a multicoloured object on the end of her needles. "I had to go back for it."
This is one of the stories from original series three of the 17 titles in the 1980s classic Tales from Fern Hollow series. This gentle story, written and illustrated by John Patience, has eight detailed, colourful and cheerful double-page spreads of illustrations in traditional style depicting the animal characters of the village of Fern Hollow, tucked away somewhere in the countryside of Edwardian England. As the inhabitants of Fern Hollow go about their daily lives, there are small adventures to enjoy and little mishaps to overcome. Everyone lends a helping hand and there's always a happy ending - and usually a feast for everyone to share in celebration.
The map on the endpapers helps children find their way around the village and appears in every single title in the Fern Hollow series. Children really love the map and enjoy pointing out where all their favourite Fern Hollow Characters live and all the stories take place.
These stories of animal folk have an enduring charm. A generation of people who had the Fern Hollow stories as children are now buying the books to read with their own children. Parents who read the books with their children back in the 1980s are now enjoying them all over again with their grandchildren.
The gentle and charming Fern Hollow stories have remained popular since they were first published in 1980.