Clockwork Angels (Hardcover)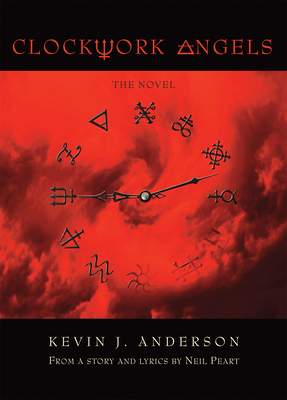 List Price: $24.95
Our Price: $21.21
(Save: $3.74 15%)
Description
---
The ultimate adventure for fans of Rush and the internationally bestselling author Kevin J. Anderson
Imagine if someone had written the novel of The Wall, Tommy, or Sgt. Pepper's Lonely Hearts Club Band when those classic albums were released. For fans of the multi-platinum band Rush, Clockwork Angels: The Novel is that project. In collaboration with the legendary rock band, acclaimed novelist Kevin J. Anderson turns the sonic journey of Rush's new album into a full-length literary adventure.
In a young man's quest to follow his dreams, he is caught between the grandiose forces of order and chaos. He travels through a lavish and colourful world of steampunk and alchemy, with lost cities, pirates, anarchists, exotic carnivals, and a rigid Watchmaker who imposes precision on every aspect of daily life.
About the Author
---
Kevin J. Anderson is the bestselling science fiction author of over 100 novels. He has written spin-off novels for Star Wars, DC Comics, StarCraft, and The X-Files and, with Brian Herbert, is the co-author of twelve novels in the Dune universe. His original works include the Saga of Seven Suns series; Terra Incognita; Resurrection, Inc.; Hopscotch; and many others. He lives in Colorado. Neil Peart was the drummer and lyricist of the legendary rock band Rush and the author of Ghost Rider, The Masked Rider, Traveling Music, Roadshow, Far and Away, Far and Near, and Far and Wide.