Bootleg Sake (Paperback)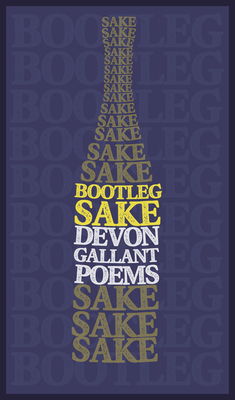 List Price: $18.95
Our Price: $16.11
(Save: $2.84 15%)
Warehouse, In Stock | Usually Ships in 1-5 Days | New
Description
---
"I read it once... twice, every unexpected turn bringing joy. Bootleg Sake is the testament of a sophisticated sensualist with a firm, yet delicate touch. Erotic, bold, something new." —Brandon Pitts, author of In the Company of Crows, Tender in the Age of Fury, The Gospel of Now

Devin Gallant is a new and unique talent now making his name on the literary and poetry scene. He has been writing poetry for over twenty years. He arrived on the literary scene in Toronto in 2002 at the age of seventeen with a first collection of poems. Over the next four years he performed throughout Toronto. Ina addition, he curated The Diamond Cherr reading Series; hosted events for Lichen Magazine, Misunderstandings Magazine, Carousel Magazine, as well as special events for ZED, CBC's Arts Collection; made a cameo appearance on Bravo's television series Heart of a Poet,; launched Cactus Press. He completed a BA in English Literature at Concordia University in Montreal in 2017. He lived in Paris for a year where he became a regular performer at the popular readings series Spoken Word Paris. He now co-hosts a bilingual reading series Accent: Cactus Press.
About the Author
---
Devin Gallant thinks of himself as 'literary renegade,' an outlier whose mentors include Rudyard Fearon and bill bisset, who think very highly of Devon's poetry. He is a poet with a a bright future, an original voice, and will leave his mark on Canadian literature.
Praise For…
---
"I read it once... twice, every unexpected turn bringing joy. Bootleg Sake is the testament of a sophisticated sensualist with a firm, yet delicate touch. Erotic, bold, something new." —Brandon Pitts, author of In the Company of Crows, Tender in the Age of Fury, The Gospel of Now

"These are the kinds of poems I see scholars at University take time to study. I am stunned by what I am seeing." —Rudyard Fearon

"s(tars) and m(agnets) a mirakul uv a book th narrator sails flies thru galax eez in a bed uv stars brings his love cum thru fire 2 th prson celebrating n spreding within th birth uv unicorns each lettr each beet each blessing is a book uv love uv daring 2 b now writtn on an olympia typwritr th tactilitee uv each star each moovment mesur brings a nu book uv joy 2 our opning hearts devon gallant has dun sumthing reelee awesum n reelee sewrapturous stedee xplorativ n radiant all within th wheel uv time iuv usd selektid phrases from devon gallants writing 2 illustrate th wundrs n powrs uv th word magik heer" —bill bissett

"Exhibiting a puzzling knowledge of history and literary craftsmanship beyond what his years should permit. & Steeped. Exquisitely.in our troubled present time. With a face glancing toward humankind's Uncertain future. Devon Gallant's Bootleg Sake is a book for everyone! It's got something for us all. indeed. The floating world of Japan. BDSM. Hellenistic Splendor. Tender eroticism. Venetian & Roman fantasies and trysts. Dead heads. The darkness of Havana. Pearls of wisdom, and wistful remembrances... & More! This stunning. Full length debut book of poetry is something you are going to want, not only read, but revisit over, and over, again. & keep close at hand on your journey through this life.like a trusted. Amorous. sagacious ...companion" —Stedmond Pardy