Holy Wild (Paperback)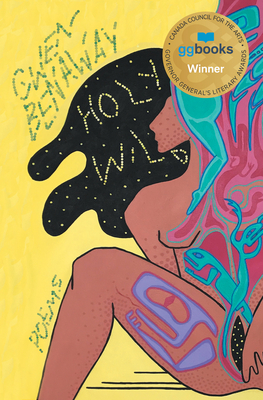 List Price: $18.00
Our Price: $15.30
(Save: $2.70 15%)
Description
---
Winner of the 2019 Governor General's Literary Award for Poetry
Finalist for the 2019 Trillium Book Award for Poetry
Finalist for the 2019 Lambda Literary Awards – Transgender Poetry Category
Finalist for the 2019 Publishing Triangle Awards – Trans and Gender-Variant Literature Category
Longlisted for the 2019 Pat Lowther Memorial Award
In her third collection of poetry, Holy Wild, Gwen Benaway explores the complexities of being an Indigenous trans women in expansive lyric poems. She holds up the Indigenous trans body as a site of struggle, liberation, and beauty. A confessional poet, Benaway narrates her sexual and romantic intimacies with partners as well as her work to navigate the daily burden of transphobia and violence. She examines the intersections of Indigenous and trans experience through autobiographical poems and continues to speak to the legacy of abuse, violence, and colonial erasure that defines Canada. Her sparse lines, interwoven with English and Anishinaabemowin (Ojibwe), illustrate the wonder and power of Indigenous trans womanhood in motion. Holy Wild is not an easy book, as Benaway refuses to give any simple answers, but it is a profoundly vibrant and beautiful work filled with a transcendent grace.
Praise for Holy Wild:
"This is a heart wrenching, thought provoking, honest, and graceful walkthrough of trans realities both on the homeland and in urban settings." —Joshua Whitehead, author of Jonny Appleseed, longlisted for the Scotiabank Giller Prize, and Full-Metal Indigiqueer
"As the poet says, "they want one thing and I am many." This book is many things, and we are grateful." —Katherena Vermette, author of the award-winning novel The Break
"Benaway conjures trans life in a place that is both prior to and in excess of the violence that mires it. It is the emotional infrastructure for something like freedom. Let Benaway lead you there." —Billy-Ray Belcourt, author of This Wound is a World
About the Author
---
Gwen Benaway is the author of two previous poetry collections: Ceremonies for the Dead and Passage. She has received many distinctions and awards, including the Dayne Ogilvie Honour of Distinction for Emerging Queer Authors from the Writer's Trust of Canada. Her poetry and essays have been published in national publications and anthologies, including The Globe and Mail, Maclean's Magazine, CBC Arts, and many others. She was born in Wingham, Ontario and currently resides in Toronto.
Praise For…
---
Praise for Holy Wild:

ninan�skomitin katawasisin k�ya �mac �cimowinak: I am so grateful for your beautiful stories, Gwen! Her narrator, like the phoenix she breathes life into, rises into a fully emblazoned piy�s�s that etches out space--in both the whiteness of queerness and the very muds and waters that birth us--for 2SQ and trans Indigenous livelihoods and literatures. This is a heart wrenching, thought provoking, honest, and graceful walkthrough of trans realities both on the homeland and in urban settings. As Benaway notes, "creation opens around [language]" in Holy Wild and as she holds our hands through story, she "wash[es] away layers" from stones ruddy with sediment; and she too "broke open the world to let [us] step into it." This book is a birthing of a body, in all of its varied meanings, which is always a promise "wild in [its] convergence[s]." ay-hay, nis�kihitowin awa. &mdashJoshua Whitehead, author of Full-Metal Indigiqueer and Johnny Appleseed

"Holy Wild! Holy Gwen! I think of this collection with an exclamation point! "[T]he only word for this is love." And, this book is filled with love--stunning, beautiful, complicated love--love of language, love of bodies, love of love, the hard-won love of self, and more, so much more. As the poet says, "they want one thing and I am many." This book is many things, and we are grateful. --Katherena Vermette, author of the award-winning novel The Break

"In Holy Wild, Benaway sounds forth a chorus of pronouncements that look something like I am "x," where "x" is at once unavailable to some and ever-proliferating: "this is what makes us holy / even if we are the only ones / who know it." It is in this refusal of singularity that Benaway conjures trans life in a place that is both prior to and in excess of the violence that mires it. "[T]he first day of forever" is forever, is recursive, is softness, is an intimate life outside of the wrath of men who spoil the categories we install hope in, but, above all else, it is the emotional infrastructure for something like freedom. Let Benaway lead you there. --Billy-Ray Belcourt, author of This Wound is a World - -