Animation: Learn How to Draw Animated Cartoons (Paperback)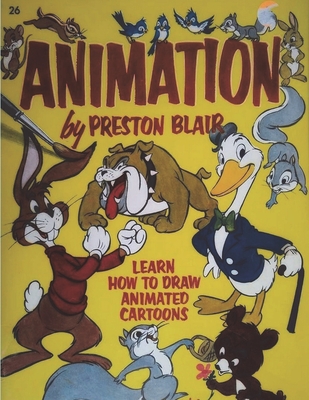 $10.93
This item is backordered and not currently available. Please contact us for an estimated availability date.
Description
---
Preston Blair was an Americancharacter animator, best remembered for his work atWalt Disney Productions and theMetro-Goldwyn-Mayer cartoon studio, including animating images of MGM & Disney cartoon characters. In the late 1930s he moved over to the Disney studio. At Disney, Blair animated cartoon short subjects, Mickey Mousescenes, including some work onWalt Disney'sPinocchio (1940) and Bambi(1942). Blair left Disney and was hired to work for MGM. There, he became particularly known for animating the titular female character in Red Hot Riding Hood. "Red" later re-appeared in more cartoons, including Swing Shift Cinderella, Little Rural Riding Hood, Uncle Tom's Cabana and theDroopy cartoons The Shooting of Dan McGoo and Wild and Woolfy, with animation by Blair. In the late 1940s, Blair teamed with animatorMichael Lahto direct severalBarney Bearcartoons. Blair continued his career in animation into the 1960s, working onThe Flintstones. He is better known, however, as an author of animation instructional books. His book, Animation: Learn How To Draw Animated Cartoons, was originally published in the US and this is a reprint of that original classic, not a revised edition. Animators must firstknow how to draw. Good drawing is the cornerstone of their success. This book will teach you these fundamentals.