Destination Marketing: Creating Memorable Tourism Experiences (Hardcover)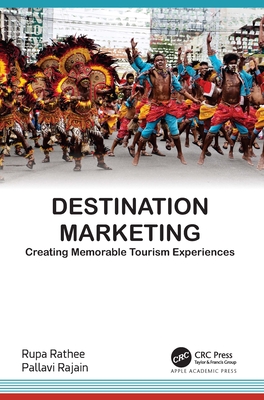 $191.94
This item is backordered and not currently available. Please contact us for an estimated availability date.
Description
---
This new volume, Destination Marketing: Creating Memorable Tourism Experiences, provides a snapshot view of various aspects of destination marketing, the art of using marketing to create memorable experiences for travellers at specific destinations. The book begins with an introduction of destination marketing that discusses its origin, how it evolved into its present state, important definitions, destination marketing environments, destination value chains, consumer behavior, along with information on segmentation, targeting, and positioning for destinations.
The authors cover various tourism attractors, the most common of which include heritage tourism, agro-rural tourism, natural/scenic attractions, man-made attractions, spiritual/ religious tourism, wildlife tourism, business tourism, festivals, art and culture tourism, sports and adventure tourism, wellness and medical tourism, culinary tourism, special interest tourism, and stopover tourism. The destination marketing mix is also discussed, covering the seven P's of destination marketing. Promotional tools are included as well as destination branding methods along with various brand elements: destination names, URLs, symbols, characters, slogans, and jingles.
Other chapters address destination marketing organizations (such as convention and visitor bureaus that help promote and market local attractions); performance measurement tools; the use of social media and digital marketing; tried-and-true strategies for destination marketing, such as segmenting, targeting, and positioning; the role of sustainability in destination marketing; the gap between theory and practice in destination marketing; and the future of destination marketing, with a view to advancements in technology as well as health and safety issues.
This book will be valuable to faculty and students in hospitality programs as well as for researchers, tourism marketing professionals, and others interested in promoting destination tourism.
About the Author
---
Rupa Rathee, PhD, is Associate Professor in the Department of Management Studies, DCRUST, Murthal, Haryana, India. She has more than 20 years of teaching experience in marketing and human resources management. She has over 50 publications to her credit in national and international journals. She has also published several book chapters and attended more than 30 faculty development programs at prestigious institutes, such as the Indian Institutes of Management (IIM)- Bangalore, IIM-Calcutta, IIM-Kozhikode, Management Development Institute-Gurgaon, IITMGwalior, etc. Dr. Rathee has also completed several consultancy projects and a UGC (University Grants Commission)-sponsored major research project.Pallavi Rajain, PhD, is Assistant Professor at Maharaja Surajmal Institute, New Delhi, India. She completed her PhD at DCRUST, Murthal, India; her BTech from Kurukshetra University; and her MBA from DCRUST, Murthal, India. She has qualified UGC NET and worked as a project fellow on a major UGC-sponsored research project on women entrepreneurship. She has over 30 publications in national and international journals, including those of Emerald and Sage publications, to her credit.