River Notes: Drought and the Twilight of the American West -- A Natural and Human History of the Colorado (Paperback)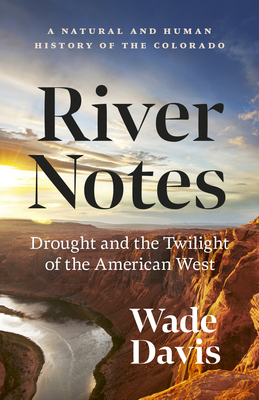 List Price: $17.95
Our Price: $15.26
(Save: $2.69 15%)
Warehouse, In Stock | Usually Ships in 1-5 Days | New
Description
---
At a time when the Colorado River and all those who depend on it are in peril, this urgent book offers "both a love song and a paean of regret to America's most spectacular river" (Denver Post) and "a plea to save it] before it's too late" (The Wall Street Journal).
From bestselling author, long-time former National Geographic Explorer, and anthropologist Wade Davis comes the story of America's Nile: how it once flowed freely and how human intervention has left it near exhaustion, altering the water temperature, volume, local species, and shoreline of the river Theodore Roosevelt once urged us to "leave it as it is."
Plugged by no fewer than twenty-five dams, the Colorado is the world's most regulated river drainage, providing most of the water supply of Las Vegas, Tucson, and San Diego, and much of the power and water of Los Angeles and Phoenix, cities that are home to more than 25 million people. If it ceased flowing, the water held in its reservoirs might hold out for three to four years, but after that it would be necessary to abandon most of southern California and Arizona, and much of Colorado, New Mexico, Utah and Wyoming. For the entire American Southwest, the Colorado is indeed the river of life, which makes it all the more tragic and ironic that by the time it approaches its final destination, it has been reduced to a shadow upon the sand, its delta dry and deserted, its flow a toxic trickle seeping into the sea.
Yet despite more than a century of human interference, Davis writes, the splendor of the Colorado lives on in the river's remaining wild rapids, quiet pools, and sweeping canyons. The story of the Colorado River is the human quest for progress and its inevitable effects--and an opportunity to learn from past mistakes and foster the rebirth of America's most iconic waterway. A beautifully told story of historical adventure and natural beauty, River Notes is a fascinating journey down the river and through mankind's complicated and destructive relationship with one of its greatest natural resources.
Published in Partnership with the David Suzuki Institute.
About the Author
---
Wade Davis is Professor of Anthropology and the BC Leadership Chair in Cultures and Ecosystems at Risk at the University of British Columbia. He served as Explorer-in-Residence at the National Geographic Society and is currently a member of the NGS Explorers Council. The author of 23 books, he has lived and worked in the Stikine as a park ranger and guide.