Stickerbomb Journal: Graffiti (Diary)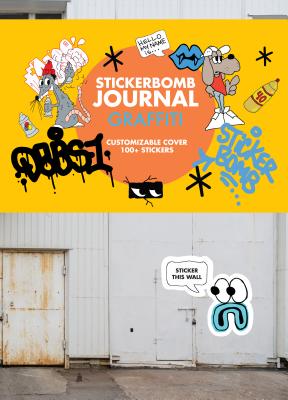 List Price: $12.99
Our Price: $12.34
(Save: $0.65 5%)
Description
---
This original range of journals includes sticker sheets you can use to customize the covers and create a unique design. Each journal has a pocket at the back containing four sheets of colorful vinyl stickers specially created by an artist on a particular theme. Two sheets have pictorial stickers, and two have letters and symbols so you can mix words and images to decorate the journals however you wish.

Sticker-bomb the white walls of the building on this Graffiti journal with the characters, letters, and tags of artist Dabs1. Add words or names using his graffiti-inspired letters and symbols to make a fully personalized journal.
About the Author
---
The SRK (Studio Rarekwai) is a creative studio based in London and Jakarta. Initiated by a director and producer partnership in 2006 with a focus on documentary films, SRK grew in size to house a troupe of creatives whose skills encompass filmmaking, sound design, animation, illustration, publishing, and events. The SRK has worked with Polydor Records, ARTE TV, the BBC, Channel4, Film4, MTV, SONAR, Spaceshower TV and a number of international non-governmental organisations. Their books include RackGaki, Graffiti Asia, and the Stickerbomb series (all Laurence King).