British Battleships 1914–18 (1): The Early Dreadnoughts (New Vanguard) (Paperback)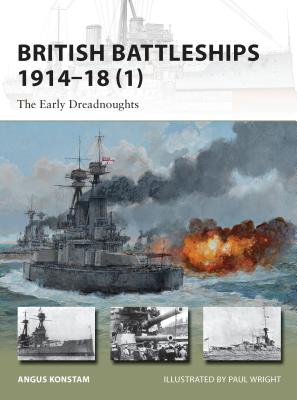 List Price: $20.00
Our Price: $17.00
(Save: $3.00 15%)
Other Books in Series
This is book number 200 in the New Vanguard series.
Description
---
The launch of HMS Dreadnought in 1906 changed the face of naval warfare. This revolutionary new battleship was in a league of her own, capable of taking on any two "pre-dreadnought" battleships in a straight fight. A naval arms race followed between Britain and Germany, as both countries hurriedly built a fleet of these powerful new warships. This race led inexorably to the outbreak of a world war. During World War I these dreadnoughts formed the backbone of the British Grand Fleet. In May 1916, these battleships put to sea to intercept their counterparts in the German High Seas fleet. The result was the battle of Jutland, a bruising high-stakes encounter where the design and construction of Britain's revolutionary new battleships was put to the test. The first half-dozen dreadnoughts were all improvements of the basic Dreadnought design, all carrying ten 12-inch guns. It was only in 1911, with the launch of HMS Neptune that the layout of this powerful armament was altered as a result of practical experience. Two more versions of the Neptune entered service later that same year. These nine improved dreadnoughts formed the core of the British High Seas Fleet. They would soon, however, be outclassed by a new breed of "super dreadnoughts", the subject of the second volume in this two-part story. While these new battleships carried larger 13.5-inch guns, they proved less successful as all-round battleships than their more lightly-armed predecessors. Naval architects were slowly learning that with modern battleships, design involved a compromise between firepower, protection and speed. One last 12-inch gun dreadnought entered service in 1914, when a seven turret battleship being built for the Turks was commandeered by the Royal Navy, and re-named HMS Agincourt. This New Vanguard title, the first of two covering these famous warships will uncover the full story of the British battleships of World War I. The book will look at their revolutionary design, the 12-inch guns that provided them with their firepower, and the way these guns were fired in anger.
About the Author
---
Angus Konstam hails from the Orkney Islands, and is the author of over 50 books, 30 of which are published by Osprey. This acclaimed and widely published author has written several books on piracy, including The History of Pirates, and Blackbeard: America's Most Notorious Pirate. A former naval officer and museum professional, he worked as the Curator of Weapons at the Tower of London and as the Chief Curator of the Mel Fisher Maritime Museum in Key West, Florida. He now works as a full-time author and historian, and lives in Edinburgh, Scotland. The author lives in Edinburgh, Scotland.
Praise For…
---
"Sections review fighting potential, wartime modifications and WWI operations.  And illuminating illustrations, camouflage comments, extended captions, tables, bibliography, and index season this superb summary. Enthusiasts will find Osprey's compact compendium an excellent introduction to a spellbinding subject.  I thoroughly enjoyed it." —David L. Veres, www.cybermodeler.com

"In this book, Angus Konstam takes a look at what led up to the building program before the war as well as a description of each of the various classes of ship. Full specs on each class are provided as well as their wartime use and any modifications done. There is also a section on the weapons used and a most interesting one on gunnery of the time. This is superbly illustrated with a selection of period photos of these ships as well as the equally excellent art work or illustrator Paul Wright, who has ably illustrated several naval books. This includes a series of full color profiles. It is everything that makes the New Vanguard series one of my favorite from Osprey and a book I can easily recommend to you." —Scott Van Aken, www.modelingmadness.com (June 2013)