The Baghdad Clock: Winner of the Edinburgh First Book Award (Paperback)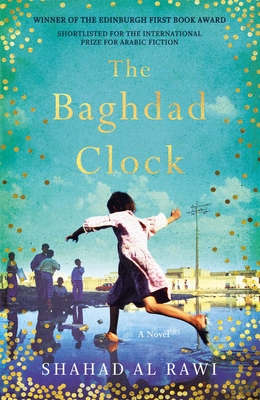 List Price: $16.95
Our Price: $14.41
(Save: $2.54 15%)
Description
---
Shortlisted for the International Prize for Arabic Fiction 2018

This number one best-selling title in Iraq, Dubai, and the UAE is a heart-rending tale of two girls growing up in war-torn Baghdad

Baghdad, 1991. The Gulf War is raging. Two girls, hiding in an air raid shelter, tell stories to keep the fear and the darkness at bay, and a deep friendship is born. But as the bombs continue to fall and friends begin to flee the country, the girls must face the fact that their lives will never be the same again.

This poignant debut novel reveals just what it's like to grow up in a city that is slowly disappearing in front of your eyes, and how in the toughest times, children can build up the greatest resilience.
About the Author
---
Shahad Al Rawi was born in Baghdad in 1986. She is a writer and novelist. Her first novel The Baghdad Clock went through three printings in the first months of publication. She is currently completing a PhD in Anthropology in Dubai.
Praise For…
---
'Vivid, at times surreal… the novel confronts the reality of Baghdad in the final decade of the twentieth century through the vision of a girl who often imbues it with wonder and beauty.'
— TLS

"The Baghdad Clock is not just a popular winner with Edinburgh International Book Festival readers this year - it's also a brilliant winner that will live long in the memory and it established Shahad Al Rawi as a force to be reckoned with, in Arabic and English alike."
— Nick Barley, director of the Edinburgh International Book Festival

'With tremendous talent and a sharp intelligence, Al Rawi delivers an outstanding debut. Highly recommended.'
— Library Journal (starred review)

'Shahad Al Rawi brings us into the city of Baghdad in the middle of the Gulf War, where people continue to go about their lives despite the war that is eroding their homes. The story centres on two girls in an air raid shelter and the friendship that blossoms around the stories they tell each other in this book filled with resilience and life.'
— World Literature Today

'This stirring debut follows two girls and their lives as they grow up in the war-torn city of Iraq. A poignant portrayal of the enduring bond of friendship, infused with a touch of magical realism.'
— Book Riot

'Marked with a wild inventiveness and emotional depth… The Baghdad Clock is a stirring, and at times moving, portrait of two young women sticking together while everything around them falls apart…[which] provides compelling depictions of each stage of the girls' journey to adulthood.'
— The National

'Al Rawi's debut presents the so-called enemy imbued with childhood whimsy and human longing, their quotidian stories embellished with touches of magic realism. Rendered into English by Harvard professor Leafgren, who was inspired by 9/11 to learn Arabic, this international bestseller is both condemnation against politics and war and testimony to resilient humanity.'
— Booklist

'Extraordinary... The author does an incredible job of painting a portrait of a neighborhood in Baghdad [and] writes beautifully of characters who immediately captivate you — characters who are relatable, but also imbued with a sense of magic. The life she writes of has an ethereal overlay, as if life is about much more than just living through war. In a country so often dehumanized by politics, Al-Rawi reminds us of the stories and people that make Iraq what it is.'
— Arab News

'Through a child's perspective and using elements of magical realism, Al Rawi explores her protagonist's internal turbulence at a time in which uncertainty is a way of life and stability a myth.'
— The Tempest

'Al Rawi writes with such enthusiasm for her subject matter, she injects her characters with beautiful quirks and personalities.'
— The Bookbag

'Amazing...I am in awe of [Al Rawi's] ability to share profound thoughts from the point of view of such a young woman.'
— Sandra Yeaman, blog review

'The Baghdad Clock is a wonderful human book... It's a brilliant and imaginative work that will capture both your heart and your mind.'
— Blogcritics

'[Shahad Al Rawi] has skilfully interwoven fantasy and reality with a fine thread. She draws you through the story, leading you from one maze into another, as you stagger along in a state of perplexity, amazement and sheer delight.'
— al-Watan