The People's Porn: A History of Handmade Pornography in America (Hardcover)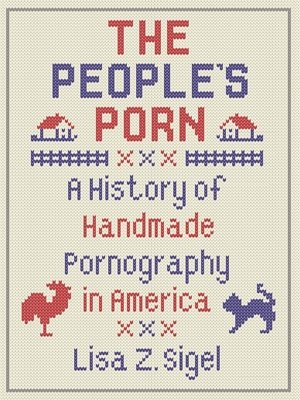 List Price: $40.00
Our Price: $34.00
(Save: $6.00 15%)
Warehouse, In Stock | Usually Ships in 1-5 Days | New
Description
---
The first history of American handmade and homemade pornography, The People's Porn offers the backstory to the explosion of amateur pornography on the web. In doing so, it provides a much-needed counterweight to ahistorical and ideological arguments that dominate most discussions of pornography.
 
Critics tend to focus on mass-produced materials and make claims about pornography as plasticized or commodified. In contrast, eminent historian Lisa Z. Sigel looks at what people made, rather than what they bought, revealing how people thought about sexuality for themselves. She also explores periods when these sexual artifacts were pilloried, ransacked, and destroyed, providing a unique document of rare nineteenth- and twentieth-century objects. Whalers and craftsmen, prisoners and activists, African Americans and feminists—all made their own pornography. Ranging across the full sweep of this output, The People's Porn challenges preconceptions as it tells a new and fascinating story about American sexual history.
About the Author
---
Lisa Z. Sigel is professor of history at DePaul University in Chicago. Her previous books include Governing Pleasures, International Exposure, and Making Modern Love.
Praise For…
---
"Sigel's great subject is the way consumerism eradicates the creative libido. Her book, for all its alarming examples, is convincing in its argument that homemade porn is a valuable anthropological indicator of sexuality that speaks to the era and place in which it was made. Her reader will certainly look at rude phalluses scraffitoed on subway seats with softer eyes. Behold, before me! A radical, unquenchable expression of the irrepressibly horny human spirit."
— New York Review of Books

"Perhaps unsurprisingly for a book of this nature, the accompanying photographs are just as compelling as the text itself, if not more so. There are 97 of them, and they are frequently hilarious. . . . Sigel is a companionable guide . . . with occasional flashes of wit and bawdy remarks."
— Los Angeles Review of Books

"Sigel's The People's Porn attempts the ambitious, unglamorous, but fascinating work of drawing together for the firs time an archive of handmade erotic objects made over two centuries of American history. From erotic scrimshaw made by nineteenth-century sailors to amateur polaroids, it charts a course through the ways in which apparently 'ordinary' men and women represented sex in all its variety—cis and trans, straight and queer, in couples or groups, with people or animals and somewhere in between—via prison pornography, pop-up erections, masturbating Santas, and feminist embroidery. In doing so, it tells a story of hidden desire that has often been overlooked . . . The People's Porn is at its most illuminating when exploring the place of sex in shared cultures of humor and conviviality, showing that pornography was as much about male (and sometimes female) bonding as it was about private fantasy."
— History Today

"Sigel's research glimpses into the history of sexuality in America through handmade pornographic objects, asking what handmade 'trashy' sex objects reveal about our culture and its historical expressions of sexuality. The People's Porn provides timelines and contexts showing that, no matter what obscenity laws our nation puts in place, individuals have always expressed their sexuality through art and crafts."
— Full Stop

"In The People's Porn, Sigel explores the history of handmade smut. . . . Is that a doctored coin in your pocket, or are you just happy to see me?"
— Chicago Magazine

"Sigel has opened the drawer for good with her new book, The People's Porn, where the historian speaks to the prolific creation of pornography and our unique culture that both harbors and represses it."
— Antiques and the Arts Weekly

"Flipping through The People's Porn, you will see some amazing things. . . . The contrast between these objects—ridiculous, funny, sexy, disturbing—and our idea of what old porn might have been like—sepia, staid—is Sigel's point. . . . I appreciated the historian's commitment to letting us know why the groups of objects she analyzes have survived to the present and explaining why the archive of handmade porn is so small. . . . When private pornography goes public, she writes, there's always a risk."
— SLATE

"Masturbation is the only sex act that's both universal and forbidden. Universal in that everyone does it—unless they exercise peculiar restraint or are lying—but forbidden in that it's taboo to practice in public and an untouchable topic in polite conversation. . . . The Peoples' Porn reveals one of America's bigger hypocrisies, simultaneously producing and consuming scads of soft- to hardcore filth while demonizing and concealing it. As Sigel, among others, points out, porn has the strange power to unite the puritanical right, anti-porn feminists, and vanilla-sex moderates against its supposed society-destroying effects. However, when self-produced, imaginary, and created of one's own free will for one's own use, those arguments become as ephemeral and insubstantial as the homemade pornography they critique. A masturbatory activity, to be sure."
— Third Coast Review

"Sigel effectively refutes several misconceptions about pornography. First, despite commercial pornography's extensive reach and impact, much of pornography is 'small business' and not industrialized. Given that, historically, both production and distribution of pornography were limited, pornography for most of its history has been amateur and homemade, both past and present. Second, although the rise of amateur pornography is commonly attributed to the rise of the internet and the spread of more affordable technology in the last twenty years, its contemporary history dates back at least to the early nineteenth century, primarily in the form of homemade pornography. Although studying pornography from the past can be challenging because much has been destroyed by 'anti-porn crusaders,' with close to one hundred pictures, this book clearly illustrates that amateur pornography existed as drawings on scrimshaw teeth, carved compass cases, and coffin figures, among many other forms. These handmade and homemade pornographic objects that escaped destruction reveal the history of amateur pornography in the United States, which showcases consumers' pursuit of something real, even if the notion of authentic sex and sexuality in itself may be nebulous. Recommended."
— Choice

"In this extensively researched volume, professor of history and author Lisa Z. Sigel counters the historical and ideological arguments against pornography. As she states in the book's introduction, much as antiques allow us to imagine the world of the past, historical pornography shows us how people understood sexuality."
— Maine Antique Digest

"By pulling together a diversity of objects made by a wide variety of people, The People's Porn tells a new story about American sexual history."
— Notches

"A beautifully written and groundbreaking historical study of homemade, handmade and amateur pornographic artifacts. Covering everything from erotic scrimshaw to amateur videos on the web, Sigel offers a fascinating account of what ordinary people thought about sexuality and desire."
— New Books Network

"Sigel fearlessly explores popular erotica, an unknown country where few scholars dare to venture. Her latest book is a fascinating feat of historical archaeology, uncovering rare sexual artefacts and perceptively revealing their significance. She proves that pornography is not always 'commercialized': it can often be a lively folk art produced by ordinary men and, yes, women."
— Jonathan Rose, William R. Kenan Professor of History, Drew University, and author of "The Intellectual Life of the British Working Classes"

"A magnificent and highly original book that convincingly argues homemade and handmade 'porn' objects can tell us important things about history and about sexuality. The People's Porn will be indispensable to anyone with an interest in the continuing debates about the relations between sex, media, and culture."
— Feona Attwood, author of "Sex Media" and coeditor of "Porn Studies"

"From the delicately obscene anonymous scrimshaw carvings of the early nineteenth century to the primitively obscene imaginings of the prolific Henry Darger in the twentieth century, to the contemporary obscene repurposing of the anatomy of Barbie Dolls, The People's Porn refutes the overblown truism that commercial pornography has been the only game in town."
— Linda Williams, Professor Emerita of Film, Media, and Rhetoric at the University of California, Berkeley, and author of "Screening Sex and Hard Core: Power, Pleasure and the 'Frenzy of the Visible'"