Research in Economic History (Hardcover)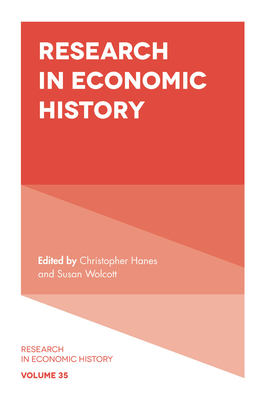 $151.24
This item is backordered. Please contact us for an estimated availability date.
Other Books in Series
This is book number 35 in the Research in Economic History series.
Description
---
In this new volume of Research in Economic History, editors Christopher Hanes and Susan Wolcott bring together a cast of expert contributors to vigorously interrogate and analyze historic economics questions. The volume looks across a range of issues. Two papers address the political economy of the US: one explores how editorials in Business Week encouraged the acceptance of Keynesian policies among US business elites; and one quantifies the role of economics in the political support of William Jennings Bryan. Two papers bring new insight into longstanding debates, looking at the "antebellum puzzle" and why medieval peasants had scattered fields. Finally, two papers explore topics in European history, including the effect of deflation on the distribution of income in Denmark, 1930-1935, and the influence of shareholders on policy at the Banque de France. For researchers and students of economic history, this volume pulls together the latest research on a variety of unanswered questions.
About the Author
---
Christopher Hanes has been Professor of Economics at the State University of New York at Binghamton (Binghamton University) since 2003. Most of his research has been in American macroeconomic history. His publications have appeared in journals including the American Economic Review, the Quarterly Journal of Economics, the Journal of Money, Credit and Banking, the Journal of Economic History, and Explorations in Economic History. Susan Wolcott is an Associate Professor in the Economics Department at Binghamton University. She primarily works on issues related to the colonial development of India. Her publications include "Why Nations Fail," from the Journal of Economic History, 1999, and "Strikes in Colonial India," published in the Industrial and Labor Relations Review 2008.