Nightbringer (Black Library Masterworks) (Hardcover)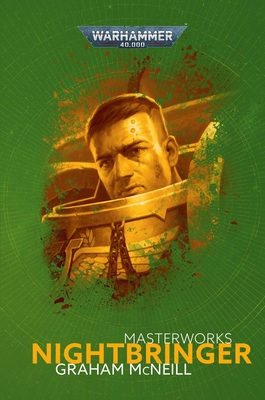 List Price: $19.00
Our Price: $16.15
(Save: $2.85 15%)
Description
---
Black Library presents the Masterworks – a curated collection of novels celebrating the very best science fiction and fantasy set in the worlds of Warhammer.

Newly promoted to the captaincy of the Ultramarines Fourth Company, Uriel Ventris leads his warriors to the world of Pavonis, where vicious alien raiders are bringing death and destruction. As Pavonis descends into political turmoil, Uriel and his warriors must battle the xenos as they unravel a plot to unleash an ancient evil buried deep beneath the world – the mysterious and deadly Nightbringer.

This edition also includes the prequel short story 'Chains of Command'. Locked in battle with the treacherous Night Lords, Captain Idaeus and his warriors – including Sergeant Uriel Ventris – enact a dangerous plan that goes against the tenets of the Codex Astartes… with deadly consequences.
About the Author
---
Graham McNeill has written many Horus Heresy novels, including The Crimson King, Vengeful Spirit and his New York Times bestsellers A Thousand Sons and the novella The Reflection Crack'd, which featured in The Primarchs anthology. Graham's Ultramarines series, featuring Captain Uriel Ventris, is now six novels long, and has close links to his Iron Warriors stories, the novel Storm of Iron being a perennial favourite with Black Library fans. He has also written the Forges of Mars trilogy, featuring the Adeptus Mechanicus, and the Warhammer Horror novella The Colonel's Monograph. For Warhammer, he has written the Warhammer Chronicles trilogy The Legend of Sigmar, the second volume of which won the 2010 David Gemmell Legend Award.