The Anxiety Workbook for Teens: The Complete Guide to Help Teens and Young Adults Boost Their Confidence and Self-Esteem (Overcome Worry, Stress, Depr (Paperback)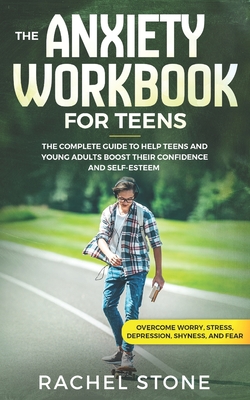 $14.99
This item is backordered and not currently available. Please contact us for an estimated availability date.
Description
---
Many adults wax nostalgic about their teen years, how it was so fun, carefree, stress-free, and idyllic. While it might be for some people, for many others, it's not.
According to the American Psychological Association, teens and young adults suffer from greater stress than their parents, particularly during the school year.
External pressures
are the most obvious source of stress and anxiety: High school grades, College classes, early career challenges, and peer pressure.
Internal pressures
are less easy to define.
Am I good enough? Am I pretty enough? Am I masculine enough? Is the way I'm feeling normal? What will I do with my life?
Although stress is normal, for many people, it can develop into real anxiety.
The Anxiety Workbook for Teens
is a complete guide that will help you
overcome Worry, Stress, Depression, Shyness, and Fear
with proven strategies that will dramatically boost your
Confidence and Self-Esteem.
In this book, you will learn how to:
Understand Panic attacks and learn how to deal with them
Overcome Social anxiety with challenges to complete
Defeat shyness with practical daily exercises
Handle and reduce constant stress with easy techniques
Manage fear and live a more serene life
Win against depression, and keep it from coming back
Practical advice on how to conquer phobias
Use proven techniques of Self-Empowerment
And a lot more...
This Workbook includes:
Worksheets to help teens and young adults get to know themselves better, identifying strengths they want to nurture, and weaknesses they want to improve.
Worksheets to identify and facilitate discussion about depression.

This book is not only geared toward teen and young adult readers, but It can also be a tool for adults who want to better understand the struggles of teens or young adults in their lives. This book will discuss how to deal with the difficulties of being a teen and a young adult in today's society.
Real-world examples and practical advice will guide you through this process step by step.
It is of extreme importance to learn how to drastically overcome anxiety. It is easy to let it slip into negative behaviors, but in the long run, facing your anxiety head-on will make you a happier and healthier person.
Scroll up, click the "Buy" button now, and put a stop to anxiety once and for all with The Anxiety Workbook for Teens