Perfectionism: A Practical Guide to Managing Never Good Enough (Paperback)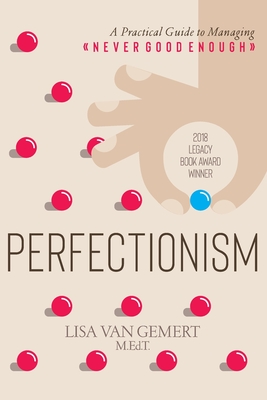 $14.95

Warehouse, In Stock | Usually Ships in 1-5 Days | New
Description
---
The Definitive Practical Guide to Managing Perfectionism
For perfectionists of all types, whether children or adults, this practical guide explains myths about perfectionism and provides a new paradigm with practical steps to turn the negative into positive, build resilience, and develop optimism.
For Parents, Teachers, and Even Young Readers
Whether you're a parent, a teacher, or even a tween or teen, this readable book will guide you through the maze and struggle of perfectionism, helping you implement the strategies that will work for you.
Research-based, Everyday Life Approved
Perfectionism translates the research on goal setting, perseverance, mindset, and habits into tips and hacks for taming the perfectionist in all of us.
Legacy Award Winner
Perfectionism is the winner of the 2018 TAGT Legacy Award for the best book for parents of the gifted.
About the Author
Lisa Van Gemert is an educator, widely-known speaker, and the former Youth and Education Ambassador for Mensa. An expert in the care and feeding of gifted children, she shares her expertise on her website, giftedguru.com.
What Others Are Saying
"Finally, a book on perfectionism that delivers on its promise of managing the "never good enough" lives ... highly-readable and engaging ... marries theory and practice with exquisite clarity ... sound advice."
- James R. Delisle, Ph.D., Distinguished Professor of Education (Retired), Kent State University. Co-author of When Gifted Kids Don't Have All the Answers and 19 other books.
"Packed with practical ideas parents and teachers can readily implement to help those struggling with perfectionism, this book is the PERFECT resource to help adults teach and model happy imperfection."
- Ed Amend, Psy.D., Clinical psychologist and former Board member, Supporting Emotional Needs of Gifted
"Who better to write a book about perfectionism than a recovering perfectionist? Invaluable new insights on perfectionism ... a must-read for parents and teachers struggling to understand the young perfectionists in their lives."
- Lisa Conrad, Owner, Gifted Parenting Support, and Moderator of Global #gtchat Powered by TAGT on Twitter.
"Lisa Van Gemert is your guide out of Perfectionland She gives inspiration and a roadmap for a life filled with joy, while still pursuing your personal best. The stories and strategies in these pages can literally transform lives."
- Dan Peters, Ph.D., Clinical Psychologist and co-founder of Summit Center, and author of Make Your Worrier a Warrior: A Guide to Conquering Your Child's Fears and related books.
"I wish I had known these strategies in raising my own highly capable children. Full of commonsense advice for parents and teachers, and a good helping of humor, the logical strategies will be easy to try at home and at school."
- Jane Hesslein, M.A., Humanities teacher, Seattle Country Day School and former Board member, Supporting Emotional Needs of Gifted