When the Side N*gga Catch Feelings 2: The Finale (MP3 CD)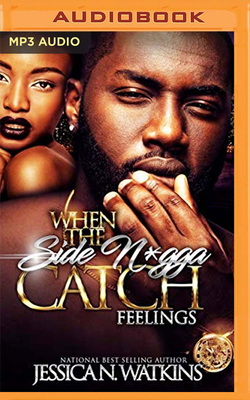 List Price: $24.99
Our Price: $23.74
(Save: $1.25 5%)
Description
---
At the end of When the Side N*gga Catch Feelings, Part 1, all hell breaks loose. The two side dudes that Heaven and Treasure have fallen for pretended as if they could play second to another man. Now, their feelings are in the way, secrets have been revealed, and Vegas and Ross are determined to make sure that the outcome is deadly.
Mello's dreams of being with Heaven have always only been fantasy because of who she is married to. Yet, one summer night led them into a steamy affair that has ended in complete mayhem. Heaven welcomes the mayhem, however, as long as she finally has Mello, a man that truly loves her. But as her luck has always has it, she can never have what she wants without it coming at a hefty price. When she refuses to pay the price, Heaven is forced back into a life on the streets...without Mello.
Vegas had never cheated on Treasure...not once. But when she is forced to reveal her infidelity with Vegas' "friend", Damo, Vegas throws away the ring and their relationship and runs into the arms of the one woman that Treasure despised. Treasure literally makes herself sick with the thought of Vegas being with Princess. Then, Treasure is forced to reveal more of her secrets and she loses her best friend, Heaven, too.
In this finale, Heaven and Treasure's unfaithfulness literally shatters their world and changes the course of their lives forever. Now, Ross is determined to make Heaven and Mello pay with their lives for deceiving him, and Vegas is falling for the opposition. All the while, Damo and Princess are still plotting to dismantle this crew. Will Heaven make it on the streets? Will Treasure be able to make it on her own two feet? Will Ross finally pay for the havoc that he wreaked on Heaven's life? Find out in this heart-wrenching finale that will leave you breathless until the very end.