The Big Burn: Teddy Roosevelt and the Fire That Saved America (MP3 CD)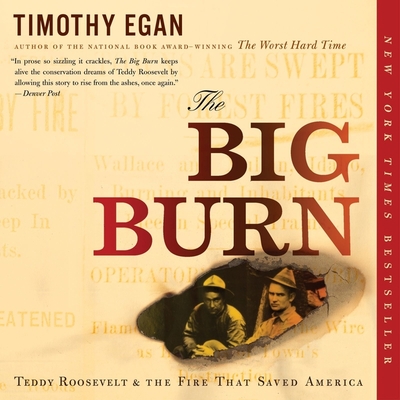 $39.99
This item is backordered and not currently available. Please contact us for an estimated availability date.
Winter 2011 Reading Group List
---
"Well-researched, compassionate, and vivid, Egan's book tells the interconnected stories of the 'Big Burn' forest fire of 1910, the founding of the National Park system, the creation of the enduring idea of conservation, and the immigration and labor histories of the Rocky Mountain West. These gracefully interwoven stories create a memorable picture of the political, social, cultural, and natural forces at play at a pivotal moment in the nation's history. Add to this the powerful personalities of Teddy Roosevelt, Gifford Pinchot, and the wide array of characters who made up the first generation of forest rangers, and you have a 'can't put it down' firestorm of a book in your hands!"
— John Evans, DIESEL, A Bookstore, Oakland, CA
Description
---
In THE WORST HARD TIME, Timothy Egan put the environmental disaster of the Dust Bowl at the center of a rich history, told through characters he brought to indelible life. Now he performs the same alchemy with the Big Burn, the largest-ever forest fire in America and the tragedy that cemented Teddy Roosevelt's legacy in the land.
On the afternoon of August 20, 1910, a battering ram of wind moved through the drought-stricken national forests of Washington, Idaho, Montana, whipping the hundreds of small blazes burning across the forest floor into a roaring inferno that jumped from treetop to ridge as it raged, destroying towns and timber in an eyeblink. Forest rangers had assembled nearly ten thousand men -- college boys, day-workers, immigrants from mining camps -- to fight the fires. But no living person had seen anything like those flames, and neither the rangers nor anyone else knew how to subdue them.
Egan narrates the struggles of the overmatched rangers against the implacable fire with unstoppable dramatic force, through the eyes of the people who lived it. Equally dramatic, though, is the larger story he tells of outsized president Teddy Roosevelt and his chief forester Gifford Pinchot. Pioneering the notion of conservation, Roosevelt and Pinchot did nothing less than create the idea of public land as our national treasure, owned by every citizen. The robber barons fought him and the rangers charged with protecting the reserves, but even as TR's national forests were smoldering they were saved: The heroism shown by those same rangers turned public opinion permanently in favor of the forests, though it changed the mission of the forest service with consequences felt in the fires of today.
THE BIG BURN tells an epic story, paints a moving portrait of the people who lived it, and offers a critical cautionary tale for our time.