Essential Art Therapy Exercises 2022: Effective Techniques to Manage Anxiety, Depression, and Ptsd (Hardcover)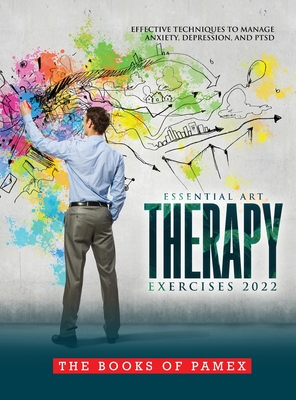 List Price: $45.97
Our Price: $39.07
(Save: $6.90 15%)
Warehouse, In Stock | Usually Ships in 1-5 Days | New
Description
---
The intention of my art therapy practice is to create a safe place for clients to experience and creatively express their emotions, as well as to cultivate new opportunities for navigating life.
Art has been an outlet for me during turbulent times, and it has been my first defense when dealing with life's challenges. Art is also a part of my daily regimen of keeping my life in balance. I practice what I preach. My mission is to support others in finding a way to connect body, mind, and soul through creativity. It's incredibly satisfying to help a person realize their true potential and live a life free of suffering. As a registered, board-certified art therapist (ATR-BC), I run a private practice that provides these services to all age groups, both in person and online.
My experience with adolescent clients ranges from working with at-risk youth in crisis shelters and juvenile jails to kids in public schools. I also have vast experience working with adults who have anxiety, depression, and trauma. Outside of my private practice, I have also worked in psychiatric facilities and women's shelters.
My clinical experience has been using the cognitive-behavioral art therapy approach to treat depression, anxiety, and post-traumatic stress disorder (PTSD). Cognitive-behavioral approaches, including mindfulness practices and meditation, are also a part of my art therapy method.Art therapy is a way for clients to visualize what's going on in their mind and learn new ways to change their thinking patterns, which can lead to a new perspective. This book provides creative techniques for dealing with depression, anxiety, and PTSD. If you are a mental health professional, try the exercises yourself before doing them with your client. If you are doing these art exercises independently, give yourself time to reflect by journaling the discussion questions.
My hope is that this book will provide a springboard for insight, self-expression, mindfulness, acceptance, and self-compassion. Specifically, the exercises are designed to provide visual representations of thoughts and feelings. When people learn that they have control over their thoughts, and how they choose to feel, it will affect their behavior. Everyone can learn new ways to respond to situations in their lives. Art therapy isn't solely for people with an artistic disposition. It can also be helpful to those who consider themselves nonartistic. Anyone open to learning techniques that foster self-awareness can gain something from the experience.hose who are new to creating art should focus on the process rather than the product. To accomplish this, they must let go of critical thoughts because judging whether artwork is good or bad will stop the creative process. The act of expression is what is valuable because it provides insight into emotions and behaviors. Creating art to express emotions can be truly cathartic and liberating. Everyone should take the time to loosen up by trying the warm-up exercises I've included at the end of chapter 1. When an individual is open to looking inward and finding new ways to cope with life events through creating art without judgment, transformation happens. The world begins to change. If thoughts of judgment come up, just witness them and do not respond. They are only thoughts. Keep the intention clear to use these exercises to heal and to learn new ways to exist comfortably in the world.