Obsidian Fleet: A Military Sci-Fi Series (Paperback)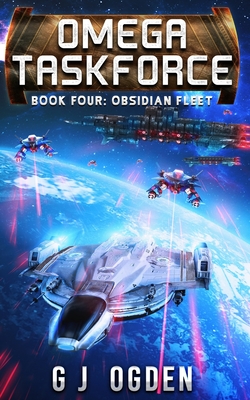 $14.95

Warehouse, In Stock | Usually Ships in 1-5 Days | New
Description
---
Space is cold. But the heart of an Omega Captain is colder still
Led by the powerful super-dreadnaught known as the Titan, the Sa'Nerra continue to push back Fleet lines. Humanity faces annihilation at the guns of a mighty alien invasion armada, yet internal struggles within Fleet and the United Governments add new dangers.
Despite his success in recovering genius scientist James Colicos from the clutches of the enemy, Captain Lucas Sterling is forced to pay the price for disobeying orders. Transferred to the Special Investigations Branch under the command of its Machiavellian head, Captain Vernon Wessel, Sterling suspects foul play. And he's not wrong.
Meanwhile, Admiral Griffin, stripped of her position as head of Fleet military forces, has gone missing. But as the mastermind behind the Omega Taskforce, Griffin has a backup plan in the form of the mysterious new Obsidian Fleet.
Things come to a head as the brutal and merciless Sa'Nerran invasion armada attacks Fleet's most vital outpost, again forcing Sterling to break ranks and go it alone. Their only hope is to develop a defense against the alien neural control weapon that has already turned dozens of Fleet ships and thousands of Fleet crew. But Sa'Nerran Emissary, Clinton Crow, is still hot on Sterling's tail.
This time Sterling and the Omega crew of the Invictus must venture into enemy territory without the support of Fleet forces. Wanted and on the run, Sterling will do anything to ensure that their mission succeeds.
The Omega Directive is in effect. And never in the history of war has its callous and cold-hearted doctrines been more necessary.
Obsidian Fleet is book four of the Omega Taskforce military sci-fi series by G J Ogden. If you like the sound of Battlestar Galactica crossed with Star Trek's Section 31, you'll love it. Enjoy ruthless alien warriors, running gun battles, devastating space combat, mystery, high-stakes action and epic twists. Start reading today