The IB Guide: The definitive guide to succeeding in the International Baccalaureate (Paperback)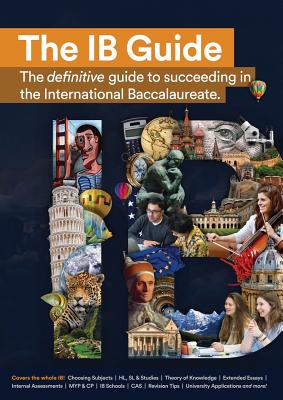 $34.50
This item is backordered and not currently available. Please contact us for an estimated availability date.
Description
---
The perfect accompaniment for any student, parent or educator involved in the International Baccalaureate.

The book is broken down modularly, to provide guidance for everyone, from novices to the programme, to experienced IBDP coordinators. Chapters include: choosing subjects, internal assessments, IB school profiles, revision tips, university application advice and much much more. Written by exceptional IB graduates turned educators. The book has been written both as a reference for those new to the programme, as well as students and educators in IBDP1 and IBDP2.

At EIB Education, we have supported thousands of students at hundreds of schools around the world, and given hundreds of talks and presentations to all stakeholders within the IB ecosystem. This book is the result of countless conversations, questions answered and infinite hours of conversation in our office about the merits of the IB programme, and how best to approach it, as a student, a parent or an educator.
Students: We hope this will not be something you read once and consign to the dustiest corner of your bookshelf Instead, we hope to have insights relevant to all stages of your IB journey, from selecting your IB subjects to life after the IB, with plenty of key information targeting every point in an IB student's life- managing IA deadlines, deciding on an Extended Essay topic, how on earth to revise for six subjects at once, to name but a few.
Parents: An IB education is a wonderful gift, and can open doors for your children forever, but there's no getting away from the fact that the IBO exists in its own world, much as does any all-encompassing education system. Use this guide to become au fait with the IB before your child, or children, embark on their IB adventure, but be sure to check back throughout the years to remind yourself of any key terminology and to stay on top of their upcoming deadlines.
IB Educators: Whether you are a seasoned IB educator, or a teacher moving to the IB system for the first time, we hope you are as enthusiastic about IB teaching methods and the IB programmes as we are We hope to have created an IB Guide you can dip in and out of throughout your time as an IB Educator, with sections you can pass through to your students and others which you may find informative yourself. If you feel there are further IB queries we have not tackled in this edition of the IB Guide, please do let us know, and we will be sure to address these in later revisions.