British Napoleonic Ship-of-the-Line (New Vanguard) (Paperback)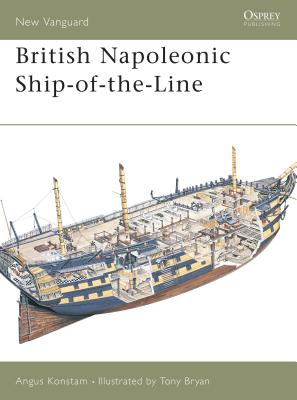 List Price: $19.00
Our Price: $16.15
(Save: $2.85 15%)
Other Books in Series
This is book number 42 in the New Vanguard series.
Description
---
The French Revolutionary and Napoleonic Wars encompassed a period when rival European fleets vied for naval supremacy, and naval tactics were evolving. The British Royal Navy emerged triumphant as the leading world sea power, and the epitome of Britannic naval strength was the Ship-of-the-Line. These 'wooden walls' were more than merely floating gun batteries: they contained a crew of up to 800 men, and often had to remain at sea for extended periods. This book offers detailed coverage of the complex vessels that were the largest man-made structures produced in the pre-Industrial era.
About the Author
---
Angus Konstam hails from Orkney, off the north of Scotland, and is the author of well over 100 history books, 75 of which are published by Osprey. He has written widely on naval history from The Pirate World to his most recent works, Hunt the Bismarck and Mutiny on the Spanish Main, both published by Osprey. A former naval officer, he has worked as a museum curator in the Royal Armouries, Tower of London and the Mel Fisher Maritime Museum in Key West, Florida. He is a Fellow of the Royal Historical Society and a former Chair of the Society of Authors in Scotland. Now a full-time author and historian, he has returned to live in Orkney.