German Panzers 1914–18 (New Vanguard) (Paperback)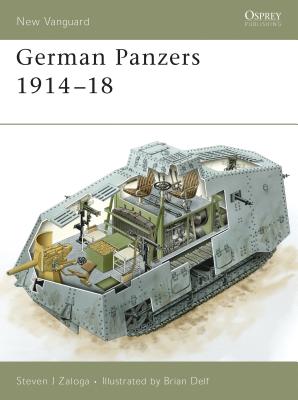 List Price: $20.00
Our Price: $19.00
(Save: $1.00 5%)
Other Books in Series
This is book number 127 in the New Vanguard series.
Description
---
Panzer warfare is synonymous with the Wehrmacht of World War II. This book examines the story of the Panzer's more mysterious ancestors, the little-known panzers of the Great War. Germany was very slow to develop armored vehicles compared to Britain and France. Early attempts such as the Marienwagen of 1915 were technical failures, discouraging further design efforts until the utility of the tank was proven by the British and French in 1916-17. Efforts to catch-up proved difficult, and only a couple dozen German A7V tanks were completed in time to take part in the final campaigns of 1918. As a result, the majority of German panzer units actually used captured British tanks, the Beutepanzer. This book will trace the development of German panzers of the Great War, including the A7V and its intended but unfinished stablemates. Also included will be an overview of the use of panzers by the German Army in World War I including both A7V and Beutepanzer units.

Related Titles
The First World War: The War to End All Wars (Essential Histories Special)
British Mark I Tank 1916 (New Vanguard)
World War I Trench Warfare (1&2) (Elite)
Fortifications of the Western Front 1914-18 (Fortress)
About the Author
---
Steven J Zaloga was born in 1952, received his BA in history from Union College, and his MA from Columbia University. He has published numerous books and articles dealing with modern military technology, especially armored vehicle development. His main area of interest is military affairs in the former Soviet Union and Eastern Europe in World War II, and he has also written extensively on American armored forces. The author lives in Maryland, USA.
Praise For…
---
"German Panzers 1914-1918...is for everyone, right from the armchair historian's requirements of a lesser amount of information/data, up to the more serious historical types looking for a good grounding on the subject. WW1 model builders will find the background information useful and Steven Zaloga gets the information (and more than an opinion or two) across without the reader becoming bogged down in the quagmire that is symptomatic with WW1 reading." —Eric Bass, Armorama (September 2006)

"An outstanding survey of struggles and technology... a top pock for specialized military holdings." —California Bookwatch

"[Stephen Zaloga] has taken his usual balanced and thorough approach to the subject, with the end product being a completely refreshing and well-detailed look at the development of AFVs by Germany during the Great War." —Frank De Sisto, missing-lynx.com