Airbrushing and Finishing Scale Models (Modelling Masterclass) (Hardcover)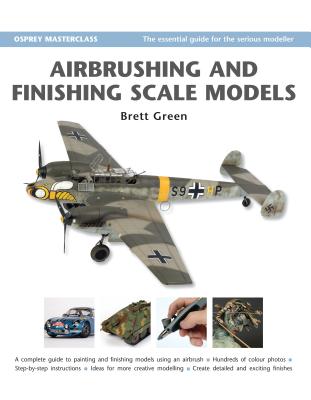 List Price: $39.95
Our Price: $37.95
(Save: $2.00 5%)
Description
---
A convincing paint finish is essential for any model, be it military or civilian, aircraft, vehicles, figures or even background items such as terrain or buildings - and good airbrushing and finishing techniques can be the key to creating a superior model. Over the last few years there have been huge strides made in the development of airbrushes, paints and thinners, and consequently, this new book will provide up-to-date practical information and illustrated techniques to take full advantage of these new technologies.

Brett Green details the prerequisites of airbrushing, including the different types of spray equipment and air sources available, offering advice on appropriate thinners, paint ratios and air pressures to ensure the most appropriate paint coverage across a range of different airbrushing applications. He then examines various airbrushing techniques across a wide range of models. Ten step-by-step, illustrated case studies ranging from heavily weathered military aircraft to pristine, high gloss motor vehicles, science fiction models, fantasy figures, groundwork and buildings will complete this in-depth guide to getting the best results on your models.
About the Author
---
Brett Green is the editor of HyperScale (www.HyperScale.com), an online model magazine established in 1998, and a highly respected aviation modeler. He has published two books on the colors and markings of Luftwaffe aircraft: Augsburg's Last Eagles, on the late-war Messerschmitt Bf 109, and Stormbird Colors on the Me 262. For Osprey Publishing he has written Modeling 2: Modeling the Messerschmitt Bf 110 and Modeling 11: Modeling the P-47 Thunderbolt, and has co-written World War 2 US Army Fighter Modeling in the Masterclass series.
Praise For…
---
"Thanks to the copious number of quality color images that accompany each section, those with the will should be able to follow what was done with ease. It is a book that I can highly recommend to you." —Scott Van Aken, Modeling Madness (September 2008)

"I can visualize a modeler at the work bench, this book protected in a plastic baggie sitting next to the model as the reader works to practice the skills discussed in the book, and using the images as the 'passing standard' for their work. The book is very well written, with excellent images to illustrate the text. The publication addresses not only the basic skills and techniques that a beginner must learn but also provides a tutorial for the more advanced techniques that a more experienced modeler wishes to tackle. The book is much more than a simple 'how to with an airbrush' and is highly recommended for modelers of all skill levels." —Dick Montgomery, IPMS (December 2008)

"Although this book is aimed at plastic models, the tips and techniques that it contains can be adapted to RC projects... Ten step-by-step, illustrated case studies, ranging from heavily weathered military aircraft to pristine, high-gloss motor vehicles, science-fiction models, fantasy figures, groundwork, and buildings, complete this in-depth guide to getting the best results on your models." —Model Aviation (January 2009)

"... this survey is perfect for any working with models, and provides an in-depth guide to creating a realistic, solid paint finish for any kind of model..." —California Bookwatch (November 2008)