Tudor Warships (1): Henry VIII's Navy (New Vanguard) (Paperback)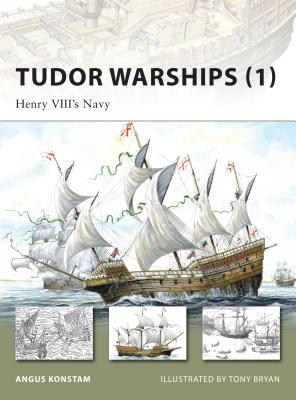 List Price: $20.00
Our Price: $17.00
(Save: $3.00 15%)
Other Books in Series
This is book number 142 in the New Vanguard series.
Description
---
In this book, expert Angus Konstam explores the fledging Tudor Navy, tracing its history, from its origins as a merchant fleet under Henry VII through to its emergence as a powerful force under Henry VIII. Examining the operational use of Henry's Tudor warships the author analyzes the battle of the Solent in 1545, in which Henry's fleet took on a French fleet of 200 ships - much larger than the Spanish Armada decades later. Despite the well documented loss of his flagship, the Mary Rose Henry's smaller force succeeded in preventing a French victory. Although many people will have heard of the mighty Mary Rose, this book will tell the story of more than just the tragic sinking of Henry's flagship, describing how one of history's most dynamic kings grew the navy from the five warships that were his father's legacy to fifty-three deadly gunships at the forefront of his empire-building strategy. Through contemporary illustrations and intricate artwork, the author traces the changing face of warship design during the Renaissance as Henry paved the way for English dominance of the sea.
About the Author
---
Angus Konstam hails from the Orkney Islands and is the author of over 20 books for Osprey. Formerly the Curator of Weapons in the Royal Armouries at the Tower of London, he also served as the Chief Curator of the Mel Fisher Maritime Museum in Key West, Florida. His maritime titles for Osprey include Elite 67: Pirates 1660-1730, Elite 69: Buccaneers 1620-1700 and Elite 70: Elizabethan Sea Dogs 1560-1605. The author lives in Edinburgh, Scotland.
Praise For…
---
"While this particular book is not actually geared toward modelers it is a very good reference to have at hand. Historical reference material is just as important to a modeler as is detailed information on your subject. So adding this book to your reference library would be a wise choice. It is written on a level that allows the reader to take in the information." —Jim Adams, Model Shipwrights (April 2008)

"The author is a specialist in this period and successfully brings to life the Tudor warship's developmental history and its use on the high seas. [The book] examines in detail the Mary Rose--the only 16th century warship on display anywhere in the world--and her tragic sinking. Meticulously researched archive photographs and detailed full-color artwork, including cutaways and contemporary illustrations." —Capt. Edward Lundquist, Sea Classics

"Konstam has produced an excellent example of the genre and it serves as a quick introduction to early Tudor warship design, ordinance, and the engagements fought in the first half of the sixteenth century... can be recommended without reservation on that basis." —Ian Yeates, The Northern Mariner / Le Marin Du Nord

"...backed by superb images of period illustrations and the artwork of Tony Bryan, providing one with an outstanding book on a truly unique subject. Get this one, you'll be pleased you did." —Scott Van Aken, modelingmadness.com (April 2008)