British Battleships 1939–45 (2): Nelson and King George V Classes (New Vanguard) (Paperback)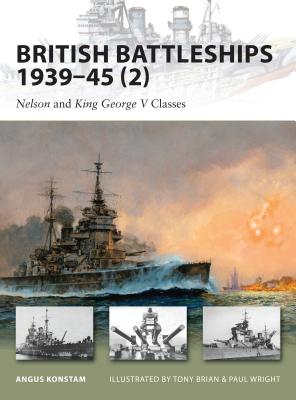 List Price: $19.00
Our Price: $16.15
(Save: $2.85 15%)
Other Books in Series
This is book number 160 in the New Vanguard series.
Description
---
With the outbreak of World War II, Britain's Royal Navy was at the forefront of her defence with her fleet of battleships as her main striking force. However, ten battleships of this fleet were already over 20 years old, venerable veterans of the first world conflict. As such, in the 1930s two new classes were commissioned - modern battleships which were designed to replace the ageing battle fleet although only one would see active service. Together with the older battleships, which were increasingly modified in the decade preceding the war and during the conflict itself, these vessels held their own against their German and Italian counterparts.

This title offers a comprehensive review of the seven battleships of the Nelson and King George V classes from their initial commissioning to their peacetime modifications and wartime service. Detailed descriptions of the main armament of each ship will offer further analysis of individual battleship's effectiveness, discussing how the guns were manned when engaging with the enemy. Moreover, with specially commissioned artwork and a dramatic re-telling of key battleship battles, this book will highlight what it was like on board for the sailors who risked their lives on the high seas. Describing HMS Rodney battling against the Bismarck, the might of the Kriegsmarine, the author details how the British battleship closed in on her German adversary at such close range that the spotters could follow the shells onto the target, arguing that although the aircraft carrier would eventually dominate later naval conflicts, it was the battleship that performed an invaluable service throughout countless engagements.
About the Author
---
Angus Konstam is one of Osprey's most prolific authors, with over 30 published titles. He has also written more than 25 larger books for other publishers. His Osprey titles include British Battlecruisers 1939-45, British Motor Torpedo Boats 1939-45 (both in the New Vanguard Series), and a string of other nautical titles. His other works include Hunt the Bismark (Naval Institute Press, 2003), PT Boats (Ian Allen, 2005) and Warships (PRC, 2001). He has also written a 100 edition part-work series on Naval History for Osprey/Del Prado. His latest book is Blackbeard: America's Most Notorious Pirate (Wiley, 2006). A former naval officer, maritime archaeologist and maritime museum curator, Angus has a long and passionate love affair with the sea, maritime history and warships. For more details visit the author's website at www.anguskonstam.com The author lives in Edinburgh, Scotland.
Praise For…
---
"This title offers a comprehensive review of the seven battleships of the Nelson and King George V classes from their initial commissioning to their peacetime modifications in wartime service, detailed descriptions of the main armament of the ships will offer further analysis of individual battleships effectiveness discussing how the guns were manned when engaging the enemy. Moreover a specially commissioned artwork and a dramatic retelling of the battleship battles, this book will highlight what it was like on board for the sailors who risked their lives on the high seas." —Ken Williams, IPMS/USA (December 2009)

"The drawings, photographs, and artwork are first rate...The typical ship modeler can readily use these books as a good reference when building any of these important ships." —Rodger Cole, Model Shipwrights (November 2009)

"All of Britain's battleship classes are covered in some detail as to the design and armament... This is all accompanied by some superb photos of the various ships and by the excellent art work of Tony Bryan and Paul Wright. This helps us to see how these ships improved over the years and the differences in the various classes. In all, it makes for an excellent primer on the subject and fully meets this reviewer's expectations of books in this series. If you want to learn about the subject, I know you will find it to be equally useful.  Buy with confidence." —Scott Van Aken, Modeling Madness, modelingmadness.com (December 2009)