M551 Sheridan: US Airmobile Tanks 1941–2001 (New Vanguard) (Paperback)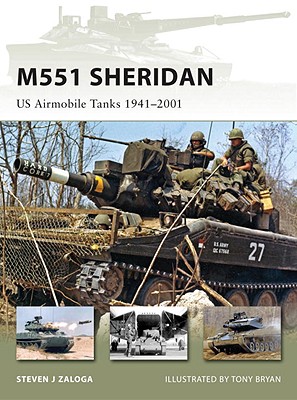 List Price: $19.00
Our Price: $18.05
(Save: $0.95 5%)
Other Books in Series
This is book number 153 in the New Vanguard series.
Description
---
One of the weaknesses of airmobile forces has always been their vulnerability to enemy armor. Since the 1940s, there have been numerous schemes to field light tanks that could be deployed by parachute or other methods to reinforce paratroopers and other airmobile forces. This book tells the story of the US experience with airmobile tanks, starting with efforts in World War II, notably the M22 Locust airmobile tank. Although not used in combat by the US Army, it was used during Operation Varsity in 1945 by British airborne forces and ended up supporting US paratroopers during this mission on the Rhine river. The book then turns to post-war efforts such as the unique T-92 airborne tank, designed for paratroop drop.

The only airborne tank actually manufactured in significant numbers was the M551 Sheridan. The history of this tank provides the focal point of this book, highlighting the difficulties of combining heavy firepower in a chassis light enough for airborne delivery. The book examines its controversial combat debut in Vietnam, and its subsequent combat history in Panama and Operation Desert Storm. It also rounds out the story by examining attempts to replace the Sheridan with other armored vehicles, such as the short-lived M8 MGS and Army LAV programs.
About the Author
---
Steven J. Zaloga received his BA in History from Union College and his MA from Columbia University. He has worked as an analyst in the aerospace industry for four decades, covering missile systems and the international arms trade, and has served with the Institute for Defense Analyses, a federal think tank. He is the author of numerous books on military technology and history, including NVG 294 Allied Tanks in Normandy 1944 and NVG 283 American Guided Missiles of World War II. He currently lives in Maryland, USA.
Praise For…
---
"This is a small book, but it contains an awful lot of information. It is well illustrated with both color and black & white photographs. It also talks about other tanks intended for airborne use, both those that went before the Sheridan and those that followed." —www.books-on-line.com

"One of the world's foremost armor experts, Steven Zaloga, applies his formidable archives to the American airborne tank in M551 Sheridan." —Jon Guttman, Vietnam Magazine (August 2009)

"Author Zaloga does his usual superb job of telling the fascinating story of this rather unique vehicle and its predecessors. Thanks to a fine selection of photographs as well as the outstanding illustrations of Tony Bryan, we get to see how the M551 changed from first development to the end of its career. Another superb addition to the New Vanguard series and one that I am sure you will enjoy. Buy with confidence." —Scott Van Aken, www.modelingmadness.com (April 2009)