Kamikaze: Japanese Special Attack Weapons 1944–45 (New Vanguard) (Paperback)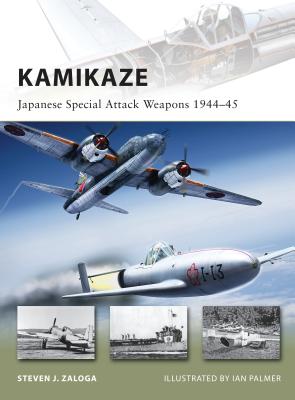 List Price: $19.00
Our Price: $18.05
(Save: $0.95 5%)
Other Books in Series
This is book number 180 in the New Vanguard series.
Description
---
The destruction of much of the remainder of the Japanese fleet and its air arm in the later half of 1944 left the Japanese Home Islands vulnerable to attack by US naval and air forces. In desperation, the Imperial Japanese Navy proposed using "special attack" formations, a euphemism for suicide attacks. These initially consisted of crude improvisations of conventional aircraft fitted with high-explosive bombs that could be crashed into US warships. Called "Divine Wind" (Kamikaze), the special attack formations first saw action in 1944, and became the scourge of the US fleet in the battles for Iwo Jima and Okinawa in 1945.

In view of the success of these attacks, the Japanese armed forces began to develop an entire range of new special attack weapons. This book begins by examining the initial kamikaze aircraft attacks, but the focus of the book is on the dedicated special attack weapons developed in 1944, including the Ohka, a rocket-powered guided missile and the Kaiten man-guided torpedo submarines. It also covers specialized suicide attack weapons such as anti-tank lunge mines. Much of the information in this book comes from little known US intelligence reports and photos compiled after the war that have never been widely published.
About the Author
---
Steven J. Zaloga received his BA in History from Union College and his MA from Columbia University. He has worked as an analyst in the aerospace industry for four decades, covering missile systems and the international arms trade, and has served with the Institute for Defense Analyses, a federal think tank. He is the author of numerous books on military technology and history, including NVG 294 Allied Tanks in Normandy 1944 and NVG 283 American Guided Missiles of World War II. He currently lives in Maryland, USA.

Ian Palmer is a highly experienced digital artist with two decades of experience in the video games industry, both as a 3D artist and an Art Director. He has a passion for military history, gaming and riding his motorbike. He lives in Warwickshire with his wife, daughter and menagerie of pets.
Praise For…
---
"The various pieces of artwork found throughout the book by Ian Palmer are superb, some vividly depicting scenes otherwise not captured on film, while others give clear cross-sections of the machines that made special attacks possible." —C. Peter Chen, www.ww2db.com

"In this book, author Steven J. Zaloga covers all of the various equipment and methods that were seriously considered and developed in the last year or so of the Pacific War. The missions they carried out and their success or lack thereof is closely evaluated. In all, it makes for a fascinating book ...  I found [it] a delight to read..." —Scott Van Aken, Modeling Madness