Yangtze River Gunboats 1900–49 (New Vanguard) (Paperback)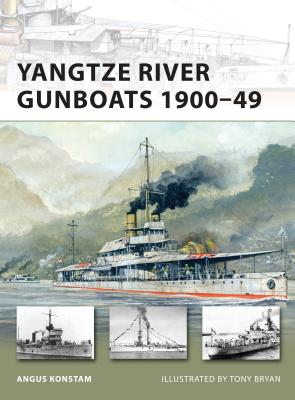 List Price: $19.00
Our Price: $16.15
(Save: $2.85 15%)
Other Books in Series
This is book number 181 in the New Vanguard series.
Description
---
From the end of the 19th century through the first half of the 20th, most Western powers maintained a naval presence in China. These gunboats protected traders and missionaries, safeguarded national interests, and patrolled Chinese rivers in search of pirates. It was a wild, lawless time in China as ruthless warlords fought numerous small wars to increase their power and influence.

This book covers the gunboats of all the major nations that stationed naval forces in China, including America, Britain, France, Germany, Italy, Portugal, and Japan, and looks at such famous incidents as the Japanese bombing of the USS Patay and the dramatic escape of the HMS Amethyst from Communist forces in 1947, which marked the end of the gunboat era.
About the Author
---
Angus Konstam hails from Orkney, off the north of Scotland, and is the author of well over 100 history books, 75 of which are published by Osprey. He has written widely on naval history from The Pirate World to his most recent works, Hunt the Bismarck and Mutiny on the Spanish Main, both published by Osprey. A former naval officer, he has worked as a museum curator in the Royal Armouries, Tower of London and the Mel Fisher Maritime Museum in Key West, Florida. He is a Fellow of the Royal Historical Society and a former Chair of the Society of Authors in Scotland. Now a full-time author and historian, he has returned to live in Orkney.
Praise For…
---
"This monograph presents the true story of the gunboats from the U.S. Navy and the navies of many European powers and Japan that patrolled the Yangtze River, protecting missionaries and trade and diplomatic outposts, as well as countering warlords and pirates. Each type of gunboat is described in detail, but even more valuable are the descriptions of life on the gunboats and the exotic political and cultural environment in which they operated." —Richard R. Burgess, Seapower(September 2011)

"This is another well written [Osprey] book. It details the early days of the river boat force and carries the reader up until the end of the riverboat force in 1949." —Jim Adams, AeroScale

"Provides a fine survey of early gunboats that protected traders and missionaries from the end of the 19th century to the first half of the 20th ... Any China or military history library will find this specific and informative." —The Midwest Book Review (September 2011)