British Light Cruisers 1939–45 (New Vanguard) (Paperback)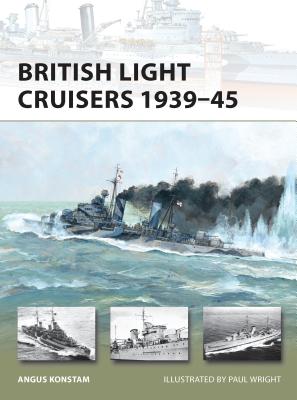 List Price: $19.00
Our Price: $16.15
(Save: $2.85 15%)
Other Books in Series
This is book number 194 in the New Vanguard series.
Description
---
Cruisers became Britain's essential vessel for protecting battleships, carriers, and convoys versus Japanese, Italian, and Nazi German commerce raiders, submarines, aircraft, and destroyers. 

The light cruiser was a natural development of the sailing frigate - a fast multi-purpose warship that could patrol the sea lanes, protect convoys and scout for enemy battle fleets. By the inter-war period the need for this type of ship was even more important, given the increasing need for protection from aircraft, and the need to screen the fleet from submarines or destroyers.

During the 1930's a new group of British light cruisers were commissioned, designed to replace an earlier generation of warships designed during the Great War. These new ships were sleek, fast, and relied on the 6-inch gun - a tried and tested weapon that combined hitting power with a high rate of fire. A second generation of light cruisers followed during the late 1930's, armed with twelve 6-inch guns apiece. One of these - HMS Belfast - is still afloat today.

Finally the threat posed by German aircraft led to the conversion of some older warships into anti-aircraft cruisers - a stopgap measure until a new class of these powerful and much-needed warships entered service. By this time wartime experience had shown that the British light cruiser was one of the most versatile types of ship in the Royal Navy, able to protect other warships, bombard enemy shores, guard life-saving convoys and intercept and destroy enemy warships. These were truly the workhorses of the wartime Royal Navy. While the battleships and carriers grabbed the headlines, these sleek, elegant warships quietly got on with the job of securing control of the seas.
About the Author
---
Angus Konstam hails from Orkney, off the north of Scotland, and is the author of well over 100 history books, 75 of which are published by Osprey. He has written widely on naval history from The Pirate World to his most recent works, Hunt the Bismarck and Mutiny on the Spanish Main, both published by Osprey. A former naval officer, he has worked as a museum curator in the Royal Armouries, Tower of London and the Mel Fisher Maritime Museum in Key West, Florida. He is a Fellow of the Royal Historical Society and a former Chair of the Society of Authors in Scotland. Now a full-time author and historian, he has returned to live in Orkney.

Paul Wright has painted ships of all kinds for most of his career, specializing in steel and steam warships from the late 19th century to the present day. Paul's art has illustrated the works of Patrick O'Brian, Dudley Pope and C.S. Forester amongst others, and hangs in many corporate and private collections all over the world. A Member of the Royal Society of Marine Artists, Paul lives and works in Surrey.
Praise For…
---
"This is superbly illustrated with a selection of period photos of these ships as well as the equally excellent art work or illustrator Paul Wright, who has ably illustrated several naval books. This includes a series of full color profiles. It is everything that makes the New Vanguard series one of my favorite from Osprey and a book I can easily recommend to you." —Scott Van Aken, Modeling Madness (November 2012)

"The British light cruiser played a key role throughout World War II, and this account documents their naval achievement and how they helped gain control of the seas during the war. Military holdings with specific interest in World War II will find this a winning account!" —James A. Cox, the Midwest Book Review (January 2013)

"Angus Konstam recaps the total tale in OSPREY's excellent British Light Cruisers 1939–45. And while he admits that a 'book of this size can never be more than a useful summary of the subject,' the author penned a positively illuminating introduction in just 48 pages." —David L. Veres, www.cybermodeler.com

". . . the quality of the work, the quality and quantity of information it provides, combined with the ease of access makes this very much a must-have for anyone interested in the naval history of this period." - Northern Mariner