British Heavy Cruisers 1939–45 (New Vanguard) (Paperback)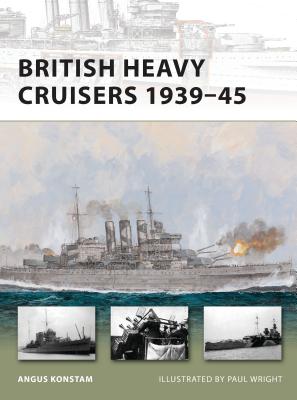 List Price: $19.00
Our Price: $16.15
(Save: $2.85 15%)
Other Books in Series
This is book number 190 in the New Vanguard series.
Description
---
The idea of a heavy cruiser emerged in the aftermath of the First World War, and was closely linked to the limits set by the inter-war Washington Treaty on naval armament. The pre-Great War concept of armoured cruisers had been abandoned, but in their stead the Admiralty saw a place for powerful cruisers, able to patrol the sea lanes of the British Empire, and which were well-enough armed that they could destroy enemy commerce cruisers of the kind used by the Germans in the last war.

The result was a group of British warships which were collectively known as the "Washington Treaty Cruisers", which did everything the Admiralty wanted, but which fitted within the limits imposed by the Washington Treaty - an armament of 8-inch guns, and a displacement of less than 10,000 tons. These impressive cruisers were high-sided, spacious and stately - perfect peacetime ambassadors for British power.

In war they also packed a considerable punch. While they all carried powerful 8-inch guns, they were also given an effective armoured belt, making them proof against any foreign cruisers then in service. During the Second World War the Royal Navy's thirteen heavy cruisers saw service in every theatre of war, whether taking part in major sea battles in the Mediterranean, delivering the coup de grace to the Bismarck in the North Atlantic, or enduring the unwanted attention of kamikaze pilots in the Pacific.
About the Author
---
Angus Konstam hails from Orkney, off the north of Scotland, and is the author of well over 100 history books, 75 of which are published by Osprey. He has written widely on naval history from The Pirate World to his most recent works, Hunt the Bismarck and Mutiny on the Spanish Main, both published by Osprey. A former naval officer, he has worked as a museum curator in the Royal Armouries, Tower of London and the Mel Fisher Maritime Museum in Key West, Florida. He is a Fellow of the Royal Historical Society and a former Chair of the Society of Authors in Scotland. Now a full-time author and historian, he has returned to live in Orkney.

Paul Wright has painted ships of all kinds for most of his career, specializing in steel and steam warships from the late 19th century to the present day. Paul's art has illustrated the works of Patrick O'Brian, Dudley Pope and C.S. Forester amongst others, and hangs in many corporate and private collections all over the world. A Member of the Royal Society of Marine Artists, Paul lives and works in Surrey.
Praise For…
---
"...enthusiasts will find his pithy précis an excellent introduction to this spellbinding subject." —David L. Veres, www.cybermodeler.com