Simple Gestures (Paperback)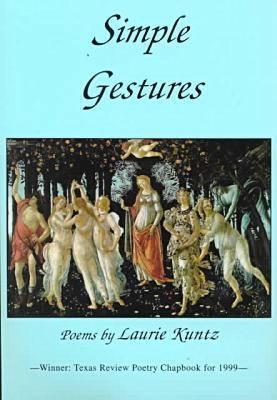 List Price: $7.00
Our Price: $6.65
(Save: $0.35 5%)
Description
---
The poetry of Simple Gestures shifts the landscape beneath the reader's feet. The planet is the poet's terrain. Kuntz introduces the redolent smell of a Saigon market, then guides us to a Japanese hot bath. The lined hands of an old woman in Brooklyn give way to a class mouthing familiar vowels in a Philippine refugee camp. From the exotic to the everyday, survival- physical and emotional- is the filament that binds disparate worlds to each other. Personal and cultural ties are slashed and refastened, giving readers poetry of the heart and spirit.

Hysterical Blindness

 Let's start with something beautiful,"
and I expect her to invoke
incense burning in brass holders,
lotus ponds on temple grounds.

Or, her daughter's slim shoulders covered
in printed Cambodian silk, arms swaying
to brass gongs, bamboo flutes. 

But her eyes only twitch and flutter.
Late autumn light seeps
through hospital Venetian blinds,

the light Chanthy misses the most,
the sphere of light from gilded pagodas,
dawn light across the her courtyard, spreading.

It's light that haunts her. 
About the Author
---
LAURIE KUNTZ worked in a Vietnamese refugee camp in the Philippines for more than a decade. Currently a lecturer in English at the University of Maryland's Asian campus in Misawa, Japan, she is the author of two English-as-a-Second-Language books and editor of the University of Maryland's Asian Division literary magazine, Blue Muse. Her poetry has been published in Bloomsbury Review, Louisville Review, Charlotte Poetry Review, Roanoke Review, Southern Poetry Review, New Virginia Review, and Contemporary Review, among others.
Praise For…
---
"Laurie Kuntz has what all poets have, intensity and passion fir living. These poems tells us that this is a person worth following as her attention moves through the ordinary day. Her language is crisp, purposeful, and a delight to follow. Her collection, Simple Gestures, will be one readers want on their shelves, as I want it on mine."  Dave Smith

"A heart-rending, pure, elegant, and subtle group of poems focusing on the Vietnam/American experience." Jack Myers, Series Final Judge

"We are delighted to be able to add Simple Gestures to our stable of impressive poetry chapbooks. This is poetic crystal here, fine-honed and sharp to the eye, throwing back the light from myriad facets. Though this is Laurie Kuntz's first published collection, I have little doubt that we will be seeing many from her in the years to come."  Paul Ruffin