Pereidas Rus (Hardcover)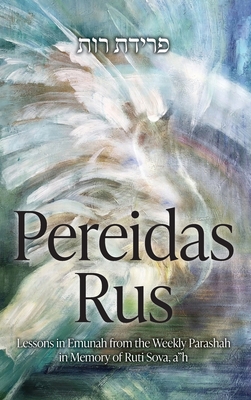 $14.39

Warehouse, In Stock | Usually Ships in 1-5 Days | New
Description
---
Ruti Sova, a"h, was a beautiful three-year-old girl bursting with personality, energy, and happiness. Tragically, after a terrible accident followed by a hospitalization, she passed away. Throughout her family's ordeal, their community in Chicago, Illinois, along with friends around the world, demonstrated true support and solidarity.
Pereidas Rus is the response of the global community to the pain of one of its own families, providing care and strength through the eternal guidance of the Torah. Throughout the book, the contributors explore the beauty of a faith-infused life through the thoughts of Rabbi Samson Raphael Hirsch, zt"l, Ruti's direct ancestor.
The book contains short lessons of faith culled from the weekly parashah. Among other topics, it examines the role of tefillah, the purpose of tests, and the recognition of one's tafkid in life. The reader will come away with a more profound appreciation of many different facets of faith, including belief in the coming of Mashiach (the Messiah), divine providence, and Olam Haba (the World to Come).
The aim is that Pereidas Rus will inspire more frequent, deeper conversations about and greater demonstrations of faith within our homes. May this work and the faith cultivated through the lessons gleaned from it act as a merit for Ruti's neshamah and hasten the ultimate redemption.