A Tudor Turk (The Chronicles of Will Ryde & Awa Maryam #1) (Paperback)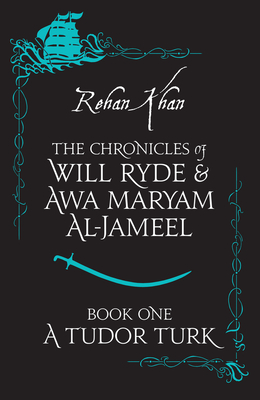 List Price: $14.99
Our Price: $14.24
(Save: $0.75 5%)
Other Books in Series
This is book number 1 in the The Chronicles of Will Ryde & Awa Maryam series.
Description
---
Istanbul, 1591: the mighty Sultan Murad III has been robbed! The Staff of Moses, used at the parting of the Red Sea, has been stolen from his private collection of religious artifacts in the Topkapi Palace—and the furious Sultan wants it back. To track down the thieves, an elite band of hand-picked warriors is assembled. Among them is Awa, daughter of a noble family form West Africa, and friend Will—kidnapped from London slums at the age of five and now a seasoned and fearless young soldier. The warriors' task is to bring the Staff home—or not come home at all. Their urgent quest takes them from the domed roofs of Ottoman Istanbul, along the crowded canals of Venice, and all the way to the court of Queen Elizabeth 1—in rainy England—in what becomes a daring Mission (almost) Impossible for the 16th century.
About the Author
---
Rehan Khan is an avid observer of history, works in the telecoms sector, and is a visiting professor at an international business school.
Praise For…
---
"This is confident, perfectly paced storytelling, a rip-roaring adventure full of narrative surprises. The pace does not let up from page one, and by the conclusion readers young and old will be eager for more from Will and Awa!" —Peter Lerangis, author,
The Sword Thief
"Three huzzahs for this scintillating new take on the late Tudor period: a rip-roaring, erudite, cosmopolitan pageturner peppered with the wisdom of ages and glowing with the ruby light of a compassionate heart—a jewel no snaggle-toothed Queen or vainglorious Sultan can buy." —Naomi Foyle, author, The Gaia Chronicles
"Khan's adventure focuses on the Mediterranean region, when the Ottoman Empire, the Republic of Venice, Spain, Portugal and Morocco were jostling, seeking to hold or increase their trading power and influence. The sketching of this backdrop is accompanied by insights into the Arabic culture. . . . Will and Awa are a formidable team whose quests are as exciting as those of many protagonists of modern dystopian or spy novels for this age group. Fights, chases and conspiracy plots make this into a fast moving and exciting read. Khan does not take what could have been the obvious romantic route instead allowing Awa and Will to develop a true friendship based on their respective skills and qualities. . . . Khan's writing is fluent, and the wealth of details enriches the plot without slowing its pace. . . . An insightful, fascinating and gripping story." —Armadillo magazine