Smart Yacht Marketing 101: The secrets to sourcing, winning and retaining the world's richest clientele (Hardcover)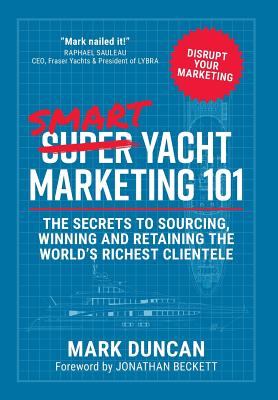 $217.35

Warehouse, In Stock | Usually Ships in 1-5 Days | New
Description
---
"A MASSIVE EYE OPENER FOR THE YACHT INDUSTRY "
Are these the issues holding back your yachting business right now?
A lack of quality leads generated by your marketing
No standout for your CA yachts (or your company or YOU) to catch the eye of the growing millennial market before the competition
Too much time being spent on branding - not enough on sourcing new clients and better communicating with existing ones
Enquiries that never seem to be followed up or properly nurtured
Marketers that spend time and money on social media, SEO and websites that generate 'likes' but never clients
For the first time ever in yachting, the techniques, tools and strategies used by the most successful brokerage houses in the world today are now shared for the benefit of all.
Written by one of the industry's longest-serving Commercial & Marketing Directors with added insight from some of yachting's most successful CEOs, brokers, captains and owners, Smart Yacht Marketing 101 is your FAST TRACK to decades of learning and first-hand experience, all distilled into one easy read.
Here are just some of the closely-guarded industry secrets now shared in this guide:
Marketers: the missing information that's been holding you back
Brokers: what you never imagined marketing could do for you - if you trust it
Six Core Pillars to Success in Yachting - including the game-changing power of USPs, unpacking the stories in your data and how positioning yourself as an authority wins deals
Your Essential Yacht Marketing Toolkit - including three of yachting's most powerful but least-used prospection tools
The 11 Most Successful Routes to Market - and how to optimise them for maximum standout
Plus: Smashing the Marketing Myths, the Power of Brand 'YOU', Invoices as Sales Tools, Making Yacht Shows Work, the Fearsome Axis of Awe and lots more...
Packed with real-life case studies from yachting and many other luxury sectors, this comprehensive guide gives you the insight, tools and perhaps most importantly of all...the CONFIDENCE...to start building and executing the sales and communication strategies that will supercharge your company's growth - no matter how big or boutique you are today - by enabling you to better source and serve the most demanding clients in the world.
This is the insight that is helping yachting to raise its game...and fast.
Today, less than 10% of the world's Ultra High Networth Individuals (UHNWI) - those who can afford to enjoy all that luxury yachting has to offer - are actually doing so.
And yet only a handful of aggressive start-ups and a few longstanding brokerage houses are successfully reaching out to the other 90%.
They are the few who are winning the cream of the world's business by using the tools and techniques shared in Smart Yacht Marketing 101.
If you are not already...shouldn't YOU be one of them?