Boogie Down Predictions: Hip-Hop, Time, and Afrofuturism (Paperback)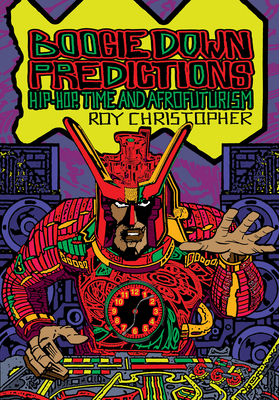 List Price: $25.00
Our Price: $21.25
(Save: $3.75 15%)
Description
---
Essays that explore the connections between time, representation, and identity within hip-hop culture.

"This book, edited by Roy Christopher, is a moment. It is the deconstructed sample, the researched lyrical metaphors, the aha moment on the way to hip-hop enlightenment. Hip-hop permeates our world, and yet it is continually misunderstood. Hip-hop's intersections with Afrofuturism and science fiction provide fascinating touchpoints that enable us to see our todays and tomorrows. This book can be, for the curious, a window into a hip-hop-infused Alter Destiny--a journey whose spaceship you embarked on some time ago. Are you engaging this work from the gaze of the future? Are you the data thief sailing into the past to U-turn to the now? Or are you the unborn child prepping to build the next universe? No, you're the superhero. Enjoy the journey."--from the introduction by Ytasha L. Womack

Through essays by some of hip-hop's most interesting thinkers, theorists, journalists, writers, emcees, and DJs, Boogie Down Predictions embarks on a quest to understand the connections between time, representation, and identity within hip-hop culture and what that means for the culture at large. Introduced by Ytasha L. Womack, author of Afrofuturism: The World of Black Sci-Fi and Fantasy Culture, this book explores these temporalities, possible pasts, and further futures from a diverse, multilayered, interdisciplinary perspective.
About the Author
---
Roy Christopher is an aging BMX and skateboarding zine kid--that's how he learned to turn events and interviews into pages with staples. He has since written about music, media, and culture for everything from self-published zines and personal blogs to national magazines and academic journals. A Ph.D. in Communication Studies from the University of Texas at Austin, he is the author of Dead Precedents: How Hip-Hop Defines the Future.