Movements, Motions, Moments: Photographs of Religion and Spirituality from the National Museum of African American History and Culture (Double Exposure #8) (Paperback)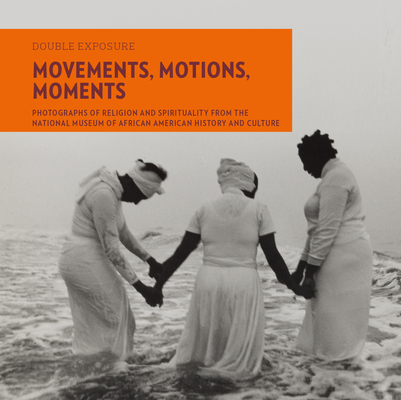 List Price: $16.95
Our Price: $14.41
(Save: $2.54 15%)
Warehouse, In Stock | Usually Ships in 1-5 Days | New
Description
---
The eighth volume in the Double Exposure series, Movements, Motions, Moments draws upon the visual images in NMAAHC's collection to explore the dynamic ways religion is engaged and practiced by African Americans.
Movements, Motions, Moments shows how African Americans have negotiated their participation and engagement in religious spaces. The book is divided into three sections--Movements, Motions, and Moments. Images of figures including Rev. Henry Highland Garnett, Noble Drew Ali, Father Divine, Prophet Elijah Muhammad, Rev. Dr. Martin Luther King Jr., Rev. Pauli Murray, Bishop Myokei Cain-Barrett, and others are depicted next to photographs of religious celebrations, ritual practices, and individual moments of faith and spirituality. Photographers include Lola Flash, Chester Higgins, Jason Miccolo Johnson, Jeanne Moutoussamy-Ashe, Kenneth Royster, James Van Der Zee, Milton Williams, Lloyd W. Yearwood, and others.
Photographs in this volume range from the nineteenth, twentieth, and twenty-first centuries and include religious traditions such as Christianity, Islam, Judaism, African indigenous, non-secular, and other religious traditions (Humanism, Atheism, Spiritualism, and others). It also includes photography capturing contemporary events and movements including Black Lives Matter and the global pandemic.
About the Author
---
Judith Weisenfeld, PhD, is Agate Brown and George L. Collord Professor of Religion, Princeton University. She is the author of New World A-Coming: Black Religion and Racial Identity during the Great Migration (2016) and Hollywood Be Thy Name: African-American Religion in American Film, 1929-1949 (2007). Melanee C. Harvey, PhD, is assistant professor of Art History, Howard University, She is the author of, most recently, "Benny Andrews: Critically Constructing the American Figure, in Unforgettable: American Artists Reconsidered, (2022) and "Afro-American Images: 1971 as Evidence: Charting Mid-Century African American Artists Networks" in Afro-American Images 1971: The Vision of Percy Ricks, Margaret Winslow, ed. (2021).Dr. Anthony B. Pinn is Agnes Cullen Arnold Distinguished Professor of Humanities, Rice University. Previous publications include Interplay of Things: Religion, Art, and Presence Together, (2021), Humanism: Essays in Race, Religion, and Cultural Production, (2015), and Introducing African American Religion, (2013).Teddy Reeves, Ph.D., is curator of Religion, National Museum of African American History and Culture. Eric Lewis Williams, Ph.D., is curator of Religion, Smithsonian National Museum of African American History & Culture. HE is the co-editor of T&T Clark Handbook of African American Theology, (2019).