Confronting Napoleon: Levin Von Bennigsen's Memoir of the Campaign in Poland, 1806-1807: Volume I - Pultusk to Eylau (From Reason to Revolution) (Paperback)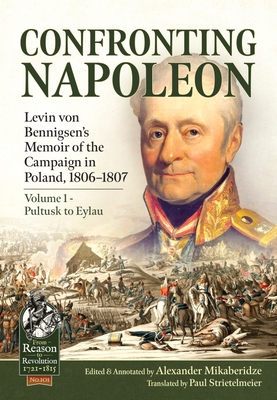 List Price: $42.50
Our Price: $36.13
(Save: $6.38 15%)
Description
---
Translated for the first time into English, this memoir offers unique insights into the epic confrontation between the French and Russians in Poland during the winter of 1806-1807, including the terrible carnage at Eylau.

A Hanoverian by birth, General Levin von Bennigsen spent 45 years in the Russian army earning a reputation as a capable officer. Due to his father's connections at the Hanoverian court, Bennigsen began his service there at the tender age of 10 as a page and was commissioned as an ensign in the Hanoverian army at 14. In 1763, as a captain, he fought in the final campaign of the Seven Years War but then retired, deeply disillusioned with military service and widely regarded as an unpromising officer. After apparently squandering his inheritance, he sought a new career in Russia in 1773. Over the next four decades he fought against the Poles, Turks, and Persians, steadily advancing through the ranks and garnering a fistful of awards. A lieutenant general in 1798, he was caught up in Emperor Paul's purge of high-ranking officers and nurtured deep animosity towards the czar. He thus took an active part in the conspiracy that assassinated Paul in late March 1801. Despite his role in the conspiracy, Bennigsen's career did not suffer under the new emperor - promoted to general in 1802, he commanded a Russian corps sent to support Prussians during the War of the Fourth Coalition in 1806. It was then that his name became a household word as he took supreme command of the Russian army against Napoleon, at the height of his power and fresh from his thrashing of Prussia. The subsequent Polish campaign turned into a quagmire as the two sides clashed amidst one of Europe's poorest and most barren regions.

Bennigsen's memoirs offer unique insights into this war, revealing the extent of command dissension at the Russian headquarters, discussing operational and logistical challenges confronting the Russian army, and underscoring the heroism of the Russian soldiers. During a grueling campaign, Bennigsen evaded Napoleon's enveloping maneuvers during a five-day all-out pursuit that brought the two sides to the snow-covered fields of Eylau. Here over 140,000 French and Russian soldiers fought a terrible battle that claimed over 40,000 casualties and left thousands of dead and wounded littering the frozen slope.