Anne-thology: Poems Re-Presenting Anne Shakespeare (Paperback)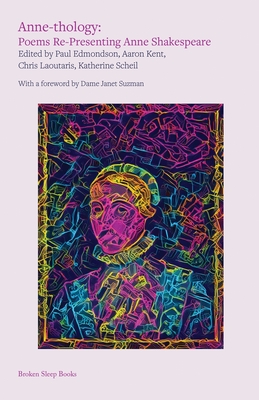 $13.99

Warehouse, In Stock | Usually Ships in 1-5 Days | New
Description
---
For four centuries Anne Shakespeare, n e Hathaway, has been in her famous husband's shadow. It's high time she had a book of her own.
This bold and ground-breaking volume places her centre-stage and encourages us to re-imagine Anne in her own right, and afresh for our own times. Anne-thology: Poems Re-Presenting Anne Shakespeare brings together sixty-seven newly-commissioned poems, one for each year of Anne's life. Here, too, are ten poems of the past. The poetic voices that sing from this book are excitingly diverse in their age and background. Together they present a multi-faceted portrait of Anne's identity and dreams.
Brave, moving, liberating, and witty, Anne-thology brings together Anne's past and present and is a bold beacon, illuminating the enduring legacy of this remarkable woman for future generations.
Including poems from: John Agard, Vasiliki Albedo, Andre Bagoo, Robert Bal, Liam Bates, Sally Bayley, Charlie Baylis, Mathilde Blind, Jane Burn, Wendy Cope, Hannah Copley, Lesley Curwen, Rishi Dastidar, Olga Dermott-Bond, Imtiaz Dharker, Charles Dibdin, Carol Ann Duffy, Ella Duffy, Taylor Edmonds, Paul Edmondson, Barbara Everett, Ewan Fernie, Tommy Oliver Sam Flynn, Paul Francis, Wendy Freeman, Jo Gatford, Kathy Gee, Neal Hall, Susanna Shakespeare Hall, Judith Shakespeare Quiney, John Harris, Justina Hart, Lucy Holme, Maisie Ireland, William Ireland, Luke Kennard, Aaron Kent, Chris Laoutaris, Fiona Larkin, Nina Lewis, Len Lukowski, Anna Catherine Markham, Louise Mather, Andrea Mbarushimana, Fokkina McDonnell, Jennifer McLean, Andrew McMillan, Stuart McPherson, Jessica Mehta, Jenny Mitchell, Constance Naden, Grace Nichols, Richard O'Brien, Yewande Okuleye, Emilia Olivia, Caleb Parkin, Roger Pringle, Emma Purshouse, Yousif M. Qasmiyeh, Sam Quill, Dean Rhetoric, Rochelle Roberts, Amber Rollinson, Rachel Sambrooks, George Sandifer-Smith, Hal Algernon Sandle-Keynes, Anna Saunders, Katherine Scheil, William Shakespeare, Genevieve Anne Marragold Stead, Julie Stevens, Taylor Strickland, Elizabeth Sylvia, Kostya Tsolakis, Carina Vallera-Satchwell, U. G. Vil gos, Cat Weatherill, Rowan Williams, and Ayşeg l Yıldırım