The Collected Poems of Lucille Clifton 1965-2010 (Hardcover)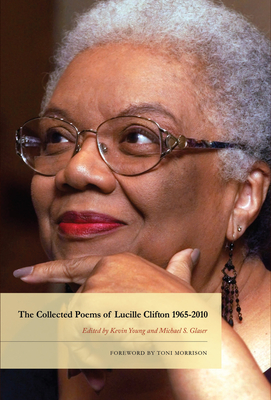 List Price: $40.00
Our Price: $34.00
(Save: $6.00 15%)
Warehouse, In Stock | Usually Ships in 1-5 Days | New
Description
---
Winner of the 2013 Hurston/Wright Legacy Award for Poetry
"The love readers feel for Lucille Clifton--both the woman and her poetry--is constant and deeply felt. The lines that surface most frequently in praise of her work and her person are moving declarations of racial pride, courage, steadfastness."--Toni Morrison, from the Foreword

"If you only read one poetry book in 2012, The Collected Poems of Lucille Clifton ought to be it."--NPR

"The 'Collected Clifton' is a gift, not just for her fans...but for all of us."--The Washington Post

The Collected Poems of Lucille Clifton 1965-2010 combines all eleven of Lucille Clifton's published collections with more than fifty previously unpublished poems. The unpublished poems feature early poems from 1965-1969, a collection-in-progress titled the book of days (2008), and a poignant selection of final poems. An insightful foreword by Nobel Prize-winning author Toni Morrison and comprehensive afterword by noted poet Kevin Young frames Clifton's lifetime body of work, providing the definitive statement about this major America poet's career.
On February 13, 2010, the poetry world lost one of its most distinguished members with the passing of Lucille Clifton. In the last year of her life, she was named the first African American woman to receive the $100,000 Ruth Lilly Poetry Prize honoring a US poet whose "lifetime accomplishments warrant extraordinary recognition," and was posthumously awarded the Robert Frost Medal for lifetime achievement from the Poetry Society of America.
"mother-tongue: to man-kind" (from the unpublished the book of days):
all that I am asking is
that you see me as something
more than a common occurrence,
more than a woman in her ordinary skin.

About the Author
---
Lucille Clifton: Lucille Clifton was born in Depew, New York, on June 27, 1936. Her first book of poems, Good Times, was rated one of the best books of the year by the New York Times in 1969. Clifton remained employed in state and federal government positions until 1971, when she became a writer in residence at Coppin State College in Baltimore, Maryland, where she completed two collections: Good News About the Earth (1972) and An Ordinary Woman (1974). She went on to write several other collections of poetry, including Voices (BOA Editions, 2008); Mercy (2004); Blessing the Boats: New and Selected Poems 1988-2000 (2000), which won the National Book Award; The Terrible Stories (1995), which was nominated for the National Book Award; The Book of Light (1993); Quilting: Poems 1987-1990 (1991); Next: New Poems (1987) Her collection Good Woman: Poems and a Memoir 1969-1980 (1987) was nominated for the Pulitzer Prize; Two-Headed Woman (1980), also a Pulitzer Prize nominee, was the recipient of the University of Massachusetts Press Juniper Prize. She has also written Generations: A Memoir (1976) and more than sixteen books for children, written expressly for an African-American audience. Lucille Clifton's honors include an Emmy Award from the American Academy of Television Arts and Sciences, a Lannan Literary Award, two fellowships from the National Endowment for the Arts, the Shelley Memorial Award, the YM-YWHA Poetry Center Discovery Award, and the 2007 Ruth Lilly Prize. In 1999, she was elected a Chancellor of the Academy of American Poets. She served as Poet Laureate for the State of Maryland and Distinguished Professor of Humanities at St. Mary's College of Maryland. After a long battle with cancer, Lucille Clifton died on February 13, 2010, at the age of 73. Toni Morrison: Toni Morrison is a Nobel Prize and Pulitzer Prize-winning American novelist, editor, and professor. Among her best known novels are The Bluest Eye, Song of Solomon and Beloved. Kevin Young: Kevin Young is the author of seven books of poetry, most recently Ardency: A Chronicle of the Amistad Rebellion, out from Knopf in January 2011. His Jelly Roll: A Blues, was a finalist for the National Book Award and the Los Angeles Times Book Prize, and winner of the Paterson Poetry Prize. He is the editor of five volumes, including 2010's The Art of Losing: Poems of Grief and Healing; his book The Grey Album: Music, Shadows, Lies won the 2010 Graywolf Nonfiction Prize and is forthcoming in 2012. He is the Atticus Haygood Professor of Creative Writing and English and Curator of Literary Collections and the Raymond Danowski Poetry Library at Emory University in Atlanta. Michael S. Glaser: Michael Glaser served as Poet Laureate of Maryland, from August 2004 through August 2009. He graduated from Denison University with a B.A. and from Kent State University with a M.A. and Ph.D. He began teaching at St. Mary's College of Maryland in 1970, retired and became a Professor Emeritus in 2008. He has published six collections of poetry and edited two anthologies. Dr. Glaser was Lucille Clifton's longtime friend and assistant.
Praise For…
---
From the earliest poems collected here, we see the familial merged seamlessly with the political, the general woven with the homespunAll poetry readers will want to own this book; almost everything is in it.Publisher's Weekly