A Bridge for Troubled Souls: Christian Principles to Alleviate Despair (Paperback)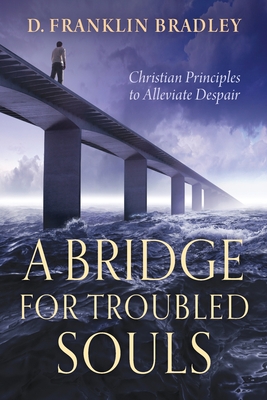 $14.95
This item is backordered and not currently available. Please contact us for an estimated availability date.
Description
---
A Bridge for Troubled Souls
D. Franklin Bradley
Struggling with the despair of depression? This Biblically based teaching method can help you build a foundation of hope.
Tired of waiting for rescue and ready to take positive steps forward? Yearning for the tools to ease lifelong heartaches? Drowning in the misery of the shadow of death? D. Franklin Bradley's childhood suffering and 21 years in law enforcement deeply afflicted him with PTSD. Yet, as he struggled first with understanding and then accepting GOD's message of love, his growing faith enabled him to overcome suicidal thoughts and horrific memories. Now, he burns with the passion to help others who feel lost or alone see their true, beautiful value.
A Bridge for Troubled Souls is a slow but steady road out of the mire of destructive mindsets. Looking at the nitty-gritty details of the Bible's promises, focusing on simple behaviors that can create change, and providing uplifting encouragement to those in the process of applying these concepts, Bradley unveils a multifaceted approach grounded in the Word of GOD to find healing. And by sharing his everyday experiences as a struggling Christian, he reveals the joy that you can reach by following the path Christ set forth.
In A Bridge for Troubled Souls you'll learn:
How to build your faith for stability and strength
Simple guides to help you advance one step at a time
Personal stories that will build your confidence
How to identify false beliefs that may hold you back
Visual progress cues and much more
A Bridge for Troubled Souls is the insightful first book in a series of Christian self-help texts. If you like therapy-based encouragement, conversational spiritual teachings, and powerful testimonies, then you'll find comfort in D. Franklin Bradley's practical guide.
Buy A Bridge for Troubled Souls to soothe a wounded spirit today.