Writing to Win Federal Grants -The Workbook (Paperback)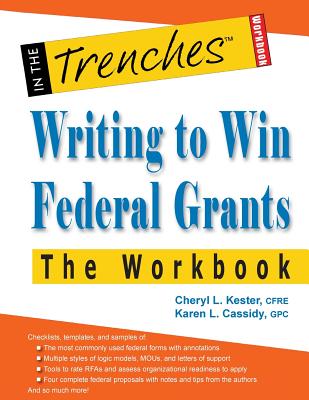 $39.95

Warehouse, In Stock | Usually Ships in 1-5 Days | New
Description
---
Writing to Win Federal Grants - The Workbook was conceived when the coauthors, Cheryl L. Kester, CFRE, and Karen L. Cassidy, GPC, were writing their book, Writing to Win Federal Grants: A Must-Have for your Fundraising Toolbox. They simply had too many tools to share in the book, which was already bursting at the seams-and they didn't want it to overwhelm beginners. So this workbook was the perfect answer to sharing these valuable tools.
Though this workbook was written as the companion to the book-and features cross-references to the book where the reader may want to go deeper-it also stands on its own.
Checklists, forms, and templates that you can use make up Part One of this workbook. These are all tools the authors created or borrowed and continue to adapt when needed. Now they're yours to use Tools such as checklists and forms fit on one or two pages so that you can photocopy them right out of this workbook, formatted in a convenient 8.5 x 11 inches.
Part Two provides sample proposals, with helpful tips and advice from the authors.
In her foreword, Teri S. Blandon, CFRE, GPC, vice president for institutional advancement at Global Communities and contributing author to You and Your Nonprofit, points out that it "not only gives you the tools, but it also tells you why you need them and how to use them."
"Logic models," writes Blandon, "have left more than one grant professional quaking with fear. This workbook not only provides examples of different formats, but it also explains how to lead a group in brainstorming development of the logic model elements. I've seen logic models explained in other books, but this is the first time I've received training in how to help the program staff create the model."
If you are new to seeking government grants, this workbook will help you become comfortable with putting together a winning proposal. If you are more experienced, the tools and resources in this workbook will help make your job easier and more efficient. Regardless of who you are and where you are in your career, you can take away practical tools to use for the proposal you are working on today.
What's In This Workbook?
Part One-Resources for Federal Grant Writing
Chapter One: Getting Ready for Federal Grants
Chapter Two: Finding the Right Grant Opportunity
Chapter Three: Federal Forms
Chapter Four: Logic Models
Chapter Five: Budgets and Budget Narratives
Chapter Six: Partnerships and the ABCs of MOUs
Chapter Seven: Organizational Charts and Letters of Support
Chapter Eight: Postaward Policies and Tools
Part Two-Annotated Sample Proposals
Annotated Application 1: Using Diagrams, Maps, and Tables Effectively
Annotated Application 2: Faith-Based Applicant Delivering Community Services
Annotated Application 3: Working With Tight Space Restrictions
Annotated Application 4: Writing for Online Applications
About the Authors