Prepare for the GPC Exam: Earn Your Grant Professional Certified Credential (Paperback)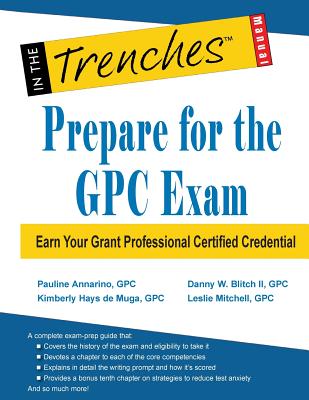 $59.95

Warehouse, In Stock | Usually Ships in 1-5 Days | New
Description
---
If you're seriously thinking about taking the GPC exam, the authors have written a guide that will help you prepare This down-to-earth manual will help you prepare for the Grant Professional Certified (GPC) exam administered by Grant Professionals Certification Institute (GPCI). It's written in an informal, conversational style by four leading grant professionals, each of whom holds the GPC designation.
Why a Guide on the GPC Exam?
So, you're thinking of sitting for the GPC exam-more formally known as the Grant Professional Certified (GPC) examination.
And no wonder The GPC credential is highly sought-after by grant professional generalists, meaning grant professionals who've mastered a wide range of grant-related knowledge and who have a deep understanding of grant programs, funding sources, opportunities, organizational development, and community collaboration. To pass the exam, grant professionals must exhibit a number of skills, especially the ability to write persuasively.
The authors, each of whom holds the GPC designation, have written a comprehensive yet conversational refresher-level look at the GPC exam administered by Grant Professionals Certification Institute (GPCI). If you're thinking of taking the exam, or simply want to know more about the grant field, this guide is for you
You may already know someone who's taken the exam and become certified. Maybe you've wondered what the exam is all about-what types of information is covered and what topics you may need to become more familiar with. This guide covers all this and much more.
About the GPC Exam
The GPC exam tests you on the skills and competencies you need to have to perform well in the grant field. In order to sit for the exam, you need to meet certain eligibility criteria. The GPC exam itself has two parts: a multiple choice section and a written section. If you pass both sections, you'll receive the GPC credential for an initial period of three years.
What Does This Manual Cover?
The topics in this manual are based on the GPC Competencies and Skills and are written for practitioners in the trenches as a refresher for the GPC exam.
The authors have organized the manual into 10 self-contained chapters which include each of the GPC competencies as well as a final chapter on strategies to reduce test anxiety.
Here are the chapters:
Chapters
Introduction
Chapter One: Grant Research
Chapter Two: Organizational Development
Chapter Three: Good Project Design
Chapter Four: Grant Proposal Development
Chapter Five: Grant Postaward Management
Chapter Six: Ethics
Chapter Seven: Professional Practices
Chapter Eight: Relationships Relationships Relationships
Chapter Nine: The Writing Prompt
Chapter Ten: Strategies to Reduce Test Anxiety
Appendix A: Authors' Recommended Reading List
Appendix B: GPCI Literature Review
The Authors
This manual was written by Pauline Annarino, Danny W. Blitch II, Kimberly Hays de Muga, and Leslie Mitchell. Each proudly holds the Grant Professionals Certification (GPC) credential.
About CharityChannel Press
CharityChannel Press, the publisher of popular books by and for busy nonprofit-sector practitioners and leaders, is the publishing project of the CharityChannel professional community-celebrating a quarter century of excellence. Sales of this guide support the Grant Professionals Foundation.