MacKenzie's Lass (Paperback)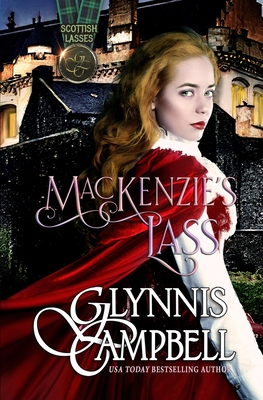 List Price: $16.99
Our Price: $14.44
(Save: $2.55 15%)
Warehouse, In Stock | Usually Ships in 1-5 Days | New
Description
---
"A fresh, exciting voice who knows how to stir a reader's blood."-Romantic Times BOOKClub
A woman with a taste for adventure...a man who knows how to satisfy her hunger. The chef to Queen Mary cooks up fiery romance with a spirited Scottish minstrel at the most controversial banquet in Tudor history.
Tristan MacKenzie, a brilliant chef in the royal household, plans to impress Queen Mary at the baptism feast for her infant son, until an intrepid minstrel, Mery Graham, arrives to stir the pot. A woman's place is definitely not in the kitchen, but daring Mery isn't intimidated by the handsome chef who's whetted her appetite for romance. Mery's impetuousness becomes a recipe for disaster as she begins to fall in love and out of wanderlust. And when insatiable curiosity lands her in the middle of a plot to assassinate the prince, Tristan must risk his life and his future-leaping from the frying pan into the fire-to save the sassy lass who has stolen his heart.
MacKENZIE'S LASS
Book 3 of Scottish Lasses
Meet the lasses in the world of Mary Queen of Scots...Like the Scottish thistle, they're lovely yet tough, beautiful yet prickly, and only the strongest and wisest heroes are able to elude their thorns to discover the tender blossom within.
Length: 61,000 words = 296 pages
Rating: R-rated for passionate passages
In This Series
Scottish Lasses
1542 - THE OUTCAST (a novella)
1545 - MacFARLAND'S LASS
1561 - MacADAM'S LASS
1566 - MacKENZIE'S LASS
Key Themes: Scottish historical romance, adventure stories, strong women, Scottish brides, Highland romance, Tudor books, traveling minstrel, medieval banquet, chef, Mary Queen of Scots, stories about food and cooking, stories with humor
More Historical Romances by Glynnis Campbell
The Warrior Maids of Rivenloch
THE SHIPWRECK (a novella)
A YULETIDE KISS (a short story)
LADY DANGER
CAPTIVE HEART
KNIGHT'S PRIZE
The Warrior Daughters of Rivenloch
A RIVENLOCH CHRISTMAS (a short story)
The Knights of de Ware
THE HANDFASTING (a novella)
MY CHAMPION
MY WARRIOR
MY HERO
Medieval Outlaws
THE REIVER (a novella)
DANGER'S KISS
PASSION'S EXILE
DESIRE'S RANSOM
Scottish Lasses
THE OUTCAST (a novella)
MacFARLAND'S LASS
MacADAM'S LASS
MacKENZIE'S LASS
California Legends
NATIVE GOLD
NATIVE WOLF
NATIVE HAWK
About the Author
---
Glynnis Campbell is a USA Today bestselling author of swashbuckling action-adventure historical romances set in Scotland, England, and the American West, with over a dozen books published in six languages. She has won awards in the Orange Rose, Hearts through History, and Book Buyers Best contests and was a double finalist in the Romance Writers of America RITA Awards. Her books appear in several multi-author boxed sets with such esteemed talents as Bella Andre, Marie Force, Tanya Anne Crosby, Lauren Royal, Kathryn Le Veque, Eliza Knight, and Claire Delacroix. Writing from her California home, she loves playing medieval matchmaker and transporting readers to a place where the bold heroes have endearing flaws, the women are stronger than they look, the land is lush and untamed, and chivalry is alive and well!From Glynnis...I love writing "stories to keep you up all night"!Keep in touch...Visit me at glynnis.netFriend me at facebook.com/GlynnisCampbellFollow me at twitter.com/GlynnisCampbellShare with me at pinterest.com/GlynnisCampbell