Memorial Book of the Sventzian Region - Part I - Life: Memorial Book of Twenty - Three Destroyed Jewish Communities in the Svintzian Region (Hardcover)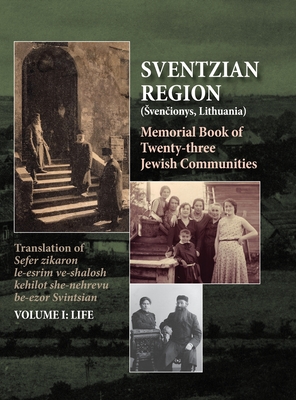 List Price: $67.95
Our Price: $57.76
(Save: $10.19 15%)
Warehouse, In Stock | Usually Ships in 1-5 Days | New
Description
---
This is Part I (LIfe) of the translation of the Memorial book of the twenty - three destroyed Jewish communities of the Sventzian region of Lithuania.
Jews had lived in Svencionys (now Lithuania) since the 14th century.
Between the two world wars, as part of independent Poland, it was the head of a district of 23 towns with sizeable Jewish communities--including Nowo Svencionys, Ignalino, Davgielski, Dukszty, Oduciski, Lingmiany, Lyntupy, Mielegiany, Sojaciszki, Podbrodzie, Koltynany, Kiemieliszki, and Cekinie.
These communities were very active. Svencionys alone had five synagogues, two "seven-year" schools with Yiddish and Hebrew lectures, a Jewish junior high school, a Jewish culture and education association, a library, a theater, a football team and several Zionist groups.
In 1941 the area was occupied by the Germans, and squads of the SS began a systematic campaign of slaughter. On September 27,1941, some 8000 Jews from the entire region were taken to a deserted military camp in the woods of Polygon and murdered, among them 3726 from the Sventzian area. A ghetto was established in Svencionys in July 1941; at its peak, it housed some 1,500 Jewish prisoners. In 1943 the Nazis liquidated the ghettos and labor camps in the area. About 4000 Jews from ghettos in Svenciony, Michaliszki and Oszmiana were transported to Ponary near Vilna, where almost all were shot.
There were 23 communities, and they are no more. These two books document in Part I, the lives and in Part II, the deaths of the Jews who lived there, and finally, their heroic struggle to stay alive.