Dawn Again: Tracking the Wisdom of the Wild (Paperback)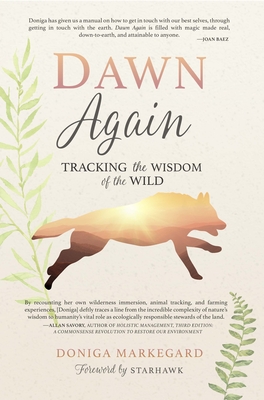 List Price: $17.95
Our Price: $15.26
(Save: $2.69 15%)
Warehouse, In Stock | Usually Ships in 1-5 Days | New
Description
---
Dawn Again: Tracking the Wisdom of the Wild is a memoir of exploration and survival that will inspired you to better tend to the planet, even if it's simply tending the soil in your own back yard
By recounting her own wilderness immersion, animal tracking, and farming experiences, Dawn Again] deftly traces a line from the incredible complexity of nature's wisdom to humanity's vital role as ecologically responsible stewards of the land. --Allan Savory, author of Holistic Management, Third Edition: A Commonsense Revolution To Restore Our Environment
Dawn Again takes readers along Doniga's journey from unsettled teen to immersive nature school student to wildlife tracker to a cattlewoman on a mission to save the food system through regenerative agricultural practices that restore the soil and other non-human elements of the planet.

One of the few female voices in both wilderness immersion and ranching, Dawn Again is a nature memoir that shares a young woman's experience hitchhiking across the pacific northwest, waiting patiently to connect with a deer on its terms, and tracking in Alaska where she finally came face to face with white wolves and the rigor of wilderness survival.

When Doniga tracks mountain lions with Erik, a rancher, she finds herself falling in love with more than just nature. She settles down on a cattle ranch on the California coast to start a family, and has to learn how to apply the deep lessons of the wild to her everyday life.
Advocating for nature knowledge and ecological wisdom, Dawn Again dives into Doniga's real-life experiences as a woman, environmentalist, wilderness expert, woman rancher, mother, and producer in the food system.
About the Author
---
Doniga Markegard is a wildlife tracker, regenerative rancher, speaker, and author of Dawn Again: Tracking the Wisdom of the Wild and Wolf Girl: Finding Myself in the Wild. Her teen years in nature school started her on a path that led to a career in animal tracking and then permaculture and ranching on her farm in California, Markegard Family Grass-Fed, where she works to regenerate both soil and community through farming. Using the innovative, carbon-storing methods of regenerative ranching, she's restoring the land she tends, bringing back native grasses and wildlife. Doniga is a consultant and guest instructor at Nature Awareness Programs around the country, has led retreats in places such as 1440 Multiversity and Canyon Ranch and is a regular speaker at events such as the Bioneers Conference, Food Inspiration Trendsummit, and The Grassfed Exchange. She is a certified educator with Holistic Management International. She has worked with companies such as Patagonia, Tesla and Google, and has been featured in articles from Civil Eats, FastCompany, GreenBiz, The San Francisco Examiner, and NPR. Most recently she has been featured in the film Kiss the Ground, available on Netflix.