Coloring Book For Teens: Anti-Stress Designs Vol 5 (Paperback)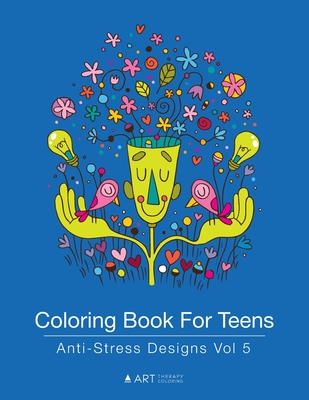 $8.35

Warehouse, In Stock | Usually Ships in 1-5 Days | New
Description
---
Coloring Book For Teens Anti-Stress Designs Vol 5
This Coloring Book For Teens Anti-Stress Designs Vol 5 by Art Therapy Coloring is filled with pictures that are goofy and quirky and represent people that are happy in the world they live in. The smiles on their faces are so infectious that they will make you smile This book makes you feel that life is good Coloring Book for Teens: Anti-Stress Designs Vol 5 is the "feel good" volume in our coloring book for teens series. This teen coloring book is full of coloring pages for teens that make you feel happy and carefree.
All you need is love, peace, music, and teen coloring books Dive into these uplifting coloring pages for teens and explore your creativity using colored pencils or markers as the tools for exploration. Feel the love, peace, and joy that this coloring book for teens relates. Coloring without distractions, such as television, phones, computers, and tablets, can be a mindfulness exercise. Coloring in your coloring book for teens can help to calm your brain and make you feel more calm and relaxed overall.
Art Therapy Coloring Books For Teens
10% of the proceeds go to benefit pancreatic cancer patients and their families
Thirty-five coloring pages created especially for teens
Designs include a variety of quirky images, geometric patterns, and mandalas.
Can be colored with colored pencil, gel pens, fine tip pens, etc.
Designs have a 1/4 inch margin around the edge
Made with quality 60# white paper
Variety of designs created for teens
Helps teens to feel relaxed
Anti-Stress Coloring Books For Teens
Coloring is a time when you can take a break from your responsibilities and relax. Not only is coloring good for your mental health, it is also really fun. You get to create a beautiful picture that you will be able to be proud of and admire.
Discover why everyone is talking about adult coloring books by ordering your copy of Coloring Book for Teens: Anti-Stress Designs Vol 5 today This teen coloring book makes a great Christmas or birthday gift for any teen, tween, or older girl
Benefits of Anti Stress Adult Coloring Books
Anti stress adult coloring books provide many benefits, such as:
Adult coloring books are great for social activities
Adult coloring books are meditative
Adult coloring books increase focus
Adult coloring books help to reduce stress